Kofi Annan, Nkrumah, other 15 great Africans who had African names
Nigerian lawyer, author, and human rights activist, Reno Omokri, is urging Africans to give their children African names.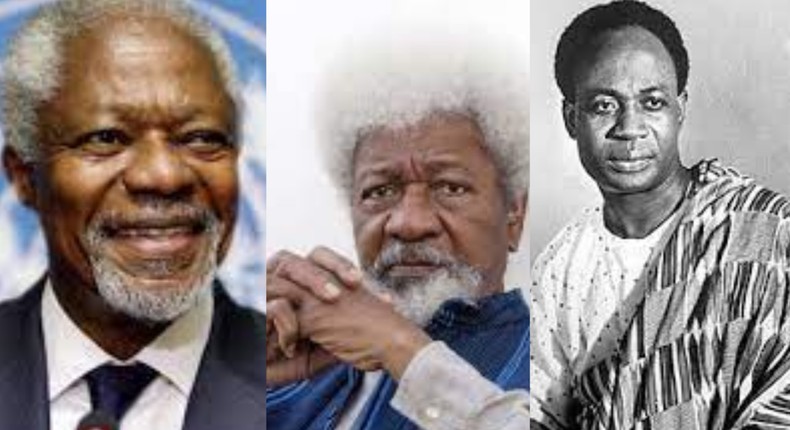 According to him, it doesn't make sense that contemporary Africans take delight in taking European names.
He cited the likes of Kofi Annan, Ras Tafari Makonnen, Chinua Achebe, Chimamanda Ngozi Adichie, Wole Soyinka, Emeka Anyaoku, Bayo Ogunlesi, Ngũgĩ wa Thiong'o, Sade Adu, Ali Mazrui, Barack Obama, Aliko Dangote, Ngozi Okonjo-Iweala, Fela Kuti, Chiwetel Ejiofo, and Dele Olojede who became global icons but didn't abandon African names for European ones.
"The greatest Africans on planet Earth became great with their Black African Names. Emulate them. Don't be a Black man with a European name. Give your children African names," Omokri wrote on the Facebook page of Build Up Nigeria, a group he founded.
According to him, he has travelled to many countries in the world and discovered that Africans are losing their identity due to the penchant to take European and other continents' names and practice their cultures.
"I am extremely well-traveled and Africans are the only people I know, who take pride in speaking a foreign language with a perfect accent, even when they can't speak their native language. Keep your culture alive. "Speak your language to your children. It does not make them local. It makes them vocal!" he advocated.
Recently, Omokri advised that kind-hearted people stop helping poor men who are married and have many children.
He opined that such men need to suffer, so that other people who see them suffer will learn not to have kids they can't cater for.
In his view, the continuous extension of a hand of help to poor married men who have many children will make them have the mentality that they are at liberty to give birth to as many children as they desire, and God will use people to help them take care of them.
Omokri was not entirely against people helping others who are in need, but according to him, the help must not be because the beneficiary has many children to take care of.
"Stop justifying giving help to a poor man because he has a wife and many kids. Let him suffer! Such a man needs to suffer, so that other people see him suffer and learn not to have kids they can't cater for. Or we will have MORE of such in society, if you help them.
"If you keep helping men for the sole reason that they are poor and have many kids, their mentality will be: born as you like, God will use people to help you train them. Your 'kindness' feeds that mentality, and creates a population explosion leading to insecurity!" Omokri wrote on his Twitter page on Wednesday, May 18.
JOIN OUR PULSE COMMUNITY!
Recommended articles
Tirus Maina's 39 years ends in 3-paragraph eulogy [Photo]
Ruto issues ultimatum for Kenyans to get digital identities
Identity of woman who died in Juja dam with Kiambu businessman revealed [Photos]
'Being homosexual isn't a crime' – Pope Francis says, calls for love for LGBTQ people
Investigation launched into 2022 KCSE results
Bill proposes Sh500K fine for employers who call staff outside working hours
How Magoha's son revived his father, tried to buy him more time
Ruto recalls working with Magoha in condolence message
Family confirms death of Prof. George Magoha