Married woman dies during sex romp with lover in Lagos
A married woman whose husband is said to be a rich socialite has died in a shameful way inside a guesthouse while having sex with her boyfriend.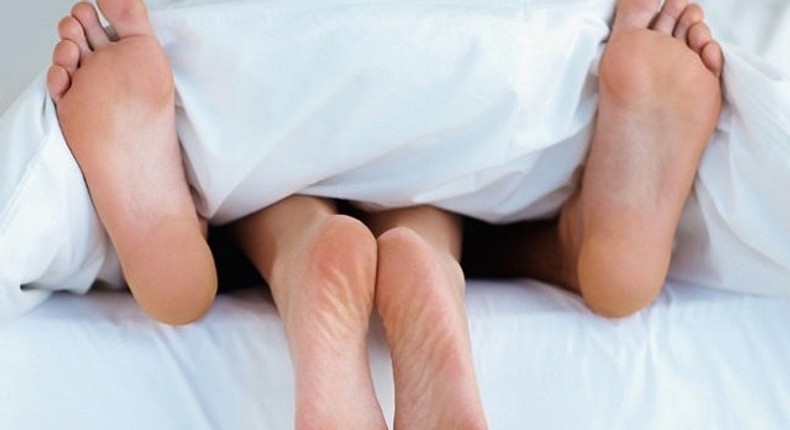 A married woman said to be the wife of a Lagos State socialite, identified only as
Punch reports that the woman had checked into the guesthouse with the boyfriend identified as Augustine Dunkwu on Tuesday, January 31, 2017, at about 2.30 pm where they were said to have drunk different brands of beer before retiring to the room they had booked to have sex.
But after about 45 minutes, Dunkwu was seen hurrying out of the guesthouse by the receptionist who became suspicious and went to the room to check why he left without the woman only to meet her naked and dead on the bed.
The receptionist was said to have raised an alarm and Dunkwu was chased, apprehended and handed over to policemen from the Idimu Division while the victim's corpse was evacuated and deposited at a morgue in the state.
The owner of the guesthouse located on Jemi Alade Street in the area who was invited by the police to make statements said the suspect had attempted abandoning the corpse in the room.
"This is a public place and people come in and go out. We are not responsible for what happened.
They came in and had drinks. There were several others here that day. After they finished drinking, they went into a room.
I don't know what happened between them; but some minutes later, he stepped out of the room and left the guesthouse.
The receptionist observed that he didn't leave with his woman friend and when she went inside to check, she discovered that the lady was unconscious and quickly raised the alarm.
People ran after him and saw that he had already boarded a vehicle. We had to drag him down from the bus.
The incident really caused a commotion in the guesthouse as some of our customers fled. We alerted policemen, who arrested him and removed the corpse."
A source in the area who knows the late Josephine said she is married to a 'big boy' whose name he refused to state.
"They (Dunkwu and Josephine) had drinks in the guesthouse before going into the room where they had sex.
It is possible that the man used drug or the woman was not strong enough to withstand the sex. She passed on during the romp."
Confirming the story, the State Police Police Relations Officer (PPRO), SP Dolapo Badmos said the case has been transferred to the State Criminal Investigation and Intelligence Department, Yaba, for thorough investigations while the suspect is currently in detention and would be charged to court soon.
JOIN OUR PULSE COMMUNITY!
Recommended articles
Apostle James Ng'ang'a lands in trouble, investigations underway
How Kiambu businessman lost Sh1.5m entire life savings chasing Sh500K deal
Gideon Moi speaks after Moi High School dorm fire [Video]
History of Arimi's, the beloved milking jelly that Kenyans can't get enough of
Lands CS Farida Karoney's sister succumbs to cancer
Ngirici and Alai's public spat gets personal as he shares his KCSE certificate
Alert - City roads that will be closed over the weekend
Moi University closed indefinitely [Statement]
Oscar Sudi speaks after KNEC declared his academic certificates were fake