Eric Omondi's fight with Obinna, Viviane's new man & more stories on #PulseUhondoMtaani
#PulseUhondoMtaani - Viviane's new man after breaking up with Sam West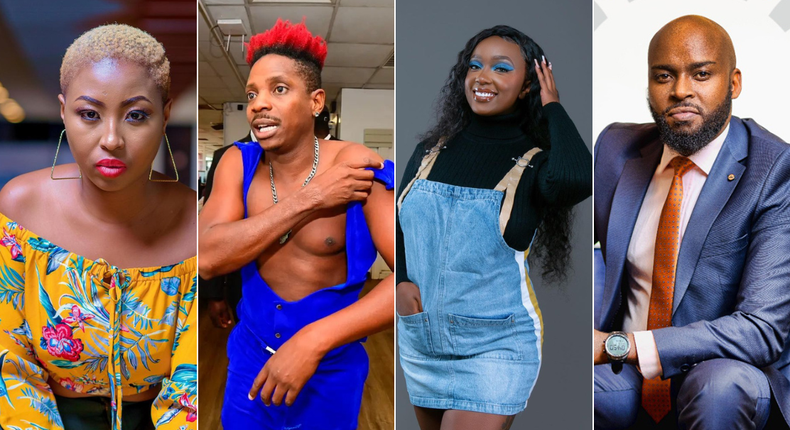 The week has been drama filled with endless drama. Eric Omondi and Oga Obinna's fight took centre stage.
Besides Omondi's drama, there are other big stories which happened this week including Mark Masai landing a new job.
Here are the top stories of the week
Eric Omondi's new appeal to Jimmy Gait, Daddy Owen, Mercy Masika & Kambua
Self-proclaimed president of African comedy Eric Omondi has sent a message to four prominent gospel musicians in Kenya.
Through a video on his Instagram account, the comedian has singled out Kambua, Daddy Owen, Jimmy Gait and Mercy Masika, asking them to focus on their primary purpose as ministers of the gospel.
"This is a message to Jimmy Gait, Daddy Owen, Mercy Masika and Kambua. God has called you to the nation," said Eric Omondi.
Omondi reminded the artists that they have a significant role because God has anointed them to do His work.
"Your purpose and calling are to preach the gospel of Christ to the four corners of the earth. There is a mantle upon your head. There is an anointing in your life, and God is calling you to reach out to the nations," Omondi said.
The controversial comedian further pointed out to the musicians that they have been called to take the word to the entire universe, not just their churches.
"God is not calling you to the church, but He is calling you to spread the gospel to the rest of the world", he noted.
Quoting a verse from the Bible, Eric noted that many have been called to the kingdom, but the four have been specially chosen.
Obinna, Eric Omondi get into physical altercation inside studio [Video]
On Friday, the self-proclaimed president of African comedy Eric Omondi and Kiss FM presenter Oga Obinna got into a physical altercation after Omondi attended an interview at the station.
As he had stated ahead of the interview, Eric was accompanied by bodyguards - an entourage he insists a president must walk around with for security purposes.
The fight started after Obinna told Eric Omondi to stop hiding what he wanted people to see.
According to Obinna, Omondi should prove his point, especially regarding his dressing style.
Pulse Live Kenya
"If you have a point to prove just come out, it's a safe space. Stop hiding in a hole and people already know you are there. Just come out and tell people that, listen guys a am fluid or am like this," Obinna said.
Before the presenter finished making his point, Eric hurtled his phone at him and pounced as his bodyguards intervened.
Shortly before the physical altercation, the two exchanged bitter words, with Obinna accusing Eric of not doing anything in the comedy industry.
Obinna dismissed Eric, challenging his 'president of African comedy' title. He said Eric Omondi has only been going on village tours in Uganda.
Obinna threatens to leave after clashing with Kwambox on air
Kiss 100 radio presenter Oga Obinna has threatened to leave if his co-host, Kwambox, continues with plans to invite Eric Omondi for an interview on Friday.
"Eric is not doing an interview here as long as I live. And if he happens to come, I will leave," Obinna said.
The radio presenter warned Kwambox to stop the plan or risk doing the Friday show without him.
"Tell Eric if he is stepping foot here tomorrow... asikuje na security... na akikuja na hiyo umbwa, am telling you Eric will not set foot in this studio. And if he comes Kwamboka, show itakua Eric na Kwambox," Obinna noted.
Pulse Live Kenya
Asked why he was so angry and bitter toward his fellow comedian, Obinna could not hide his dislike for Eric Omondi. He said he would not participate in the planned interview because he did not invite him.
"You invited Eric I don't like the guy. Eric is a bully, childish and misinformed," Obinna said.
He accused Eric of not being empathetic or doing anything in the music and entertainment industry to bring change.
"Eric is not empathetic. Eric does not have a plan; he only wakes up to think of who he will insult next," Obinna said.
Mark Masai finds new home after leaving NTV
Professional Marketing Services (PMS GROUP), a leading PR and marketing agency, has announced the appointment of Mark Masai as the new Director of Public Relations and Communications.
In a statement of Friday, February 10, the company noted that with over 15 years of experience in communication, Mark is known for his expertise in the field and is expected to bring his vast knowledge to the PMS Group.
Mark will head the PR and corporate communication team and be responsible for anchoring PMS Group's position in the market.
The NEWs; NEW HAT, NEW HOME: Communication is my first language and I have a knack for speaking to and reaching an audience with a desired outcome. The market is open and I am ready to close the deals and grow brands," he said after the news.
Pulse Live Kenya
The agency has a long list of major organizations and brands in its portfolio, including the Communications Authority of Kenya, the Co-operative Bank, Bidco Africa, and ICIPE RSIF, among others.
Joanne Mwangi-Yelbert, CEO and founder of PMS Group, expressed her excitement at Mark's appointment and said it reflects the company's commitment to disrupting Africa's PR and Communication market.
PMS Group has over 25 years of business operation and has been providing marketing and communication services to local, regional, and international organizations and brands.
After leaving Nation Media Group in 2022, he launched his own show dubbed "The Social Newsroom".
Mark Masai's journey in the media industry began during his college days at Tangaza in Karen, where he was an intern at Hope FM.
Upon completing his education, he joined Radio Africa Group and later worked at other radio stations like Classic FM and provided voiceovers for commercials.
YouTuber Nicholas Kioko and girlfriend welcome twin babies in cute photos
The content creator and Youtuber Nicholas Kioko and his girlfriend, Wambo Ashley, have welcomed baby twins.
In an emotional post on social media, Kioko expressed his joy and thanked God for blessing him twice.
"Thank you, Lord, for the blessings you have bestowed on my life, twice the smiles & twice the love," he posted.
Pulse Live Kenya
Kioko further revealed the date and time the two babies were born and their respective weights.
"Baby Roman Lee (2.6kgs) & Rommy Reign (2.5kgs) born on 8th February 2023 at 6:24 p.m. & 6:25 p.m, respectively," Kioko wrote on Instagram.
The lovebirds revealed they were expecting twins on December 9, 2022.
Njugush explains why he deleted video after KOT uproar
Kenya's beloved content creator Njugush found himself on the wrong side of Twitter streets after he posted a video promoting a client.
Njugush who is known to dislike controversy was also surprised by the turn of events, forcing him to later take down the video.
The bank recently faced criticism on social media which manifested in the comment section, but the comedian reacted with humour as most Kenyans know him for.
After deleting the specific video, he invited Kenyans to talk about the issues they had about the video.
"Have a seat guys, tulieni bana tubonge (calm down let's talk)," he said in a post, before adding "Kumechemka (The situation has become hot)".
Some Kenyans on Twitter (KOT) criticised him for posting the advert amid complaints from Kenyans about the brand.
Pulse Live Kenya
Many of his fans however defended the comedian, saying Njugush was not at fault.
Speaking to a local media house, the funny man said the timing of the video caused the uproar.
"Nothing as sanitising. Actually, it was a scheduled post but the agenda must agend, right?" he said adding that the situation did not affect his brand.
"Timing ndio mbaya (The timing was bad). But affecting nope we've been in worse situations bana," he told Nairobi News.
Away from the recent drama, Njugush is celebrated for pioneering a new age of content creators in the country.
Mejja narrates painful journey with throat condition affecting his voice
Kenyan rapper Major Nameye Khadija 'Mejja' has revealed that he is suffering from a throat condition that has affected his voice and consequently, his ability to record music.
Narrating that he is undergoing treatment in the care of doctors at Avenue Hospital, Mejja disclosed that the condition began late last year as a sore throat that wouldn't go away.
"Najua watu wanashangaa mbona nimenyamaza because by now huwa nimerelease ngoma. Nikona issue na throat yangu," he narrated in an interview with Mseto East Africa.
Pulse Live Kenya
He opted to buy over-the-counter medication from a local chemist who pointed out that he may have gotten a sore throat from a poorly maintained AC fan. The medication worked for a while but the symptoms returned.
"Vile tuliingia hii mwaka bado nilipuuza hiyo uchungu but sasa nikaanza kuona damu kwa kikohozi ndio nikaenda hospitali, na hapo ndio nilijua hata kuna daktari anaitwa ENT.
"[At the beginning of the year I started noticing that I was constantly feeling irritation in my throat and I later noticed blood in my sputum so I finally went to see a specialist Ear, Nose & Throat (ENT) doctor]," Mejja narrated.
The lyrical storyteller further narrated that the condition has adversely affected his voice making it hard for him to hit high notes.
Flaqo & Keranta address pregnancy rumours [Video]
Content creators Flaqo and Keranta have denied rumours that they are expecting a baby together after rumours of Keranta being pregnant started circulating online.
Flaqo first posted a photo of himself shocked with a caption asking what people were talking about in regard to the pregnancy rumours.
The couple couldn't stand the rumours which were spreading like wildfire and they decided to record a video together to clarify that Keranta is not expectant.
Pulse Live Kenya
"I'm not pregnant and I am not going to be pregnant any time soon. I'm always asked if I am pregnant whenever I post on my social media platforms.
"Some always end up congratulating me in advance and I always wonder what's going on," said Keranta.
Flaqo teased his girlfriend by demanding to see the baby bump in the video stating that maybe he was the only one who was not aware that she was expectant.
Keranta cheekily replied to Flaqo by asking if he wasn't aware of the changes that were taking place in her body yet they are together.
Vivian introduces the new man in her life [Screenshot]
Singer Vivian has left her fans curious after posting a video of a man with the sweet caption, "God brought you my way", accompanied by a red heart emoji on her Instagram stories.
Although the singer did not give more information regarding how she relates with the man, the caption message and the background song provide much more details, according to fans.
Pulse Live Kenya
After a few weeks of a rumoured separation, Vivian came clean about the state of her marriage in October 2022, confirming that her husband had departed from her life.
Priscilla Wa Imani overjoyed after whistling her way into her first-ever flight
Priscilla was flown to Mombasa alongside her husband to PrideInn Hotel and she couldn't hide her joy when she boarded a plane for the first time.
Priscilla first shared a video of herself in a plane with air hostesses and she as usual whistled and shouted her name as she gave credit to the airline that she was using to fly to Mombasa.
The content creator a series of videos while in Mombasa as she interacted with her fans and some of the tourists who probably didn't know.
Priscilla then added another video of herself in an empty plane at the end of her vacation and she was shouting and whistling as usual.
Pulse Live Kenya
Speaking to YouTuber Eve Mungai, Priscilla stated that it was her first time boarding a plane and the experience was awesome.
Priscilla had been to Mombasa but by bus which was obviously tiresome. The viral content creator was given the once-in-a-lifetime opportunity of travelling to the Coast comfortably and within a short period of time.
Priscilla added that there was no need for her to introduce herself when she got to Mombasa since people already knew her because of her content.
Recommended articles
Eric Omondi jets off to the U.K. for lunch after CS Kuria's remarks
Jalang'o exposes lavish lifestyles of creators opposing 15% tax
KTN News loses its 1st sports presenter in mass exit
Wilbroda & Alex Mwakideu clash over education on air
Nitakupiga - Angry Arrow Bwoy threatens troll who body-shamed Nadia Mukami
David Moya responds to claims of 'dumping' Mama Mboga
Burna Boy, Tems, Asake, Ayra Starr nominated for 2023 BET Awards
Don't expect any ungodly or dirty lyrics in my songs - Spyro
Kamene Goro clarifies radio comeback reports
Faith Kipyegon makes special dedication after shattering world record in Italy
Fred Arocho, Eric Njiru thrill fans as football season concludes [Photos]
Unleashing the power of M-PESA & its impact on mobile banking and sports betting
Comedian Arap Uria received by Senator Mandago after cycling from Eldoret to Nairobi
Thika Sports Club, next stop for NCBA golf series
Big Ted's inspiring message to Kenya's rugby community
Fitness influencer Shiv Simani joins fight against sports neglect by gov't
Kipchoge wins Sh7.4M prize in Spain
Ombachi shares how career-threatening injury pushed him into content creation