Why Kamene Goro has left Radio Africa, Mr Seed's baby mama & more stories on #PulseUhondoMtaani
If you missed the biggest stories of the week, #PulseUhondoMtaani has conveniently compiled all of them for you;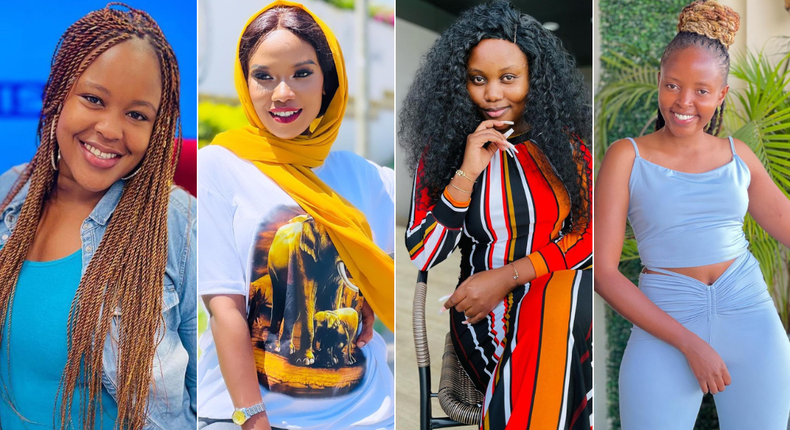 Kamene Goro reveals truth about why she left Kiss FM
Outgoing Kiss FM morning show host Kamene Goro has explained why she is leaving the radio station after speculations she was fired.
Speaking in an interview after her last show, Kamene said her contract had lapsed and she didn't find the need to renew it.
She said allegations that she was a regular absentee at work were brought up because of the period she was ailing.
"I have seen these stories, the truth is I was not fired, my contract lapsed and there was no need to move forward with it.
Former Kiss FM Kamene Goro
"I was however sick last year and I followed the protocol, gave in the letters, I never showed up at work sometimes but it is because I was sick. I also never showed up at work intoxicated because I run the desk and you can't run the desk when you are drunk," Kamene stated.
The celebrated radio host also shared her opinion on Sheila Kwamboka who is taking her spot saying she was experienced and good to take her place.
"Sheila is a great lady, I have known her for a while she is very seasoned and I am happy for her and wish her all the best," she said.
Andrew Kibe rants after being hit by online scammers
Controversial US-based content creator Andrew Kibe has been left in shock after he was targeted by online scammers.
Kibe, in his social media pages, revealed he had fallen victim to the con artists who posed as customer service agents of a telecommunications company on Twitter.
Without disclosing the amount he had lost to the cons, Kibe said he suspected the scam was an inside job.
"Sema kuoshwa nikaosheka, how the scammers got my number and I had just inboxed (the company) is a mystery to me. Hapa na suspect inside job. Someone at this company is selling client information or your twitter account is fake," he said.
Content creator Andrew Kibe Pulse Live Kenya
(I have been scammed, how the scammers got my number is a mystery to me. I suspect this could be an inside job. Someone is selling client information or your Twitter account is fake)
Kibe pledged to work round the clock to ensure he gets his cash back and further urged those that have faced similar predicaments not to remain silent.
"I must get my money back, I want my money, this cash is earned through blood sweat and tears," Kibe said.
Kibe is not the first person to fall victim to scammers, there have been increased cases of Kenyans online being hit by scammers who pose as customer care agents for companies.
Jalango's legacy immortalised in new book [Details]
Kenyan author Eugine Kabasa is set to release his latest book, "The Making of an Icon: The inspiring journey of Jalang'o," which details the life of media personality-turned-politician and current Langata MP Jalang'o.
The publication's foreword has been penned by NTV news anchor Brian George.
The book, which is based on Jalang'o's life, covers his humble beginnings in Homa Bay, his struggles in school, and his rise to fame as a radio presenter, comedian, and currently a Member of Parliament.
"It presents the major life lessons that one can take away from specific incidences of Jalang'os eventful career. In the book, I make a commentary of how his story is a perfect example of defying odds and making it where normally you wouldn't," the author said.
Pulse Live Kenya
Born and raised in Homa Bay, Jalang'o comes from a humble background, as his parents were farmers.
He has three brothers and one sister, and his father passed away on the day he signed his first officially contract as a radio presenter at Radio Africa Group's Kiss 100.
Despite the loss, Jalang'o persevered and went on to become one of the most popular and recognizable faces in the Kenyan media industry and now Lang'ata MP.
Jalang'o's educational journey was not easy, he scored 442 out of 700 in his KCPE, and was selected to join Maseno school, but his father couldn't raise the required school fees.
Eventually, he was admitted to Barkanyango Secondary School, and later transferred to Nyagoma Boys High School where he scored a C+ in his KCSE.
Harmonize makes unexpected statement about Diamond during Rwanda visit
During his visit to Rwanda, Tanzanian star Harmonize left fans suprised after he offered an apology on behalf of Diamond Platnumz who missed a show he had been slated for in the country.
Harmonize Pulse Live Kenya
Harmonize explained that he did not understand the circumstances that led to Diamond not showing up urging Rwandese fans to forgive him.
"My brother was supposed to have a show here in Rwanda a few days ago but he didn't show up so I really don't know what happened but on behalf of all Tanzanians I ask all Rwandese to forgive him but next time I know he will make it," Harmonize said in a Rwandese media house.
The singer has had a distant relationship with his former boss after he left Wasafi record label to start his enterprise Konde Gang worldwide.
He has on numerous claimed occasions claimed Diamond is copying Nigerian star Asake.
Newlyweds Steve Ogolla and Cebbie Koks celebrate new accomplishment
After ending the year 2022 on a high with their traditional wedding, Cebbie Koks and her lawyer husband, Steve Ogolla have a reason to smile again.
This is because of Ogolla's graduation which adds to his already exemplary academic portfolio.
Ogolla's wife on her Instagram page congratulated her better half as she outlined the importance of acquiring good education.
"Education is the great engine of personal development. Its through education, a daughter or a son of a peasant farmer can be a celebrated doctor or lawyer. Dzadzi, you made me so proud as always, made our mothers so happy. Congratulations Steve Ogolla," Cebbie Koks wrote.
Steve Ogolla celebrates his graduation with his family Pulse Live Kenya
Ogolla adds his latest certificate to his law degree which he acquired from Moi University in 2007 and a Master's degree in Governance.
Ogolla and Cebbie Koks wedded on December 27, 2022, in a beautiful traditional ceremony in Migori county.
The wedding was attended by friends and family among them Lang'ata Member of Parliament Phelix 'Jalang'o' Odiwour, politician Gladys Boss Shollei, singer Akothee's children, lawyer Kamotho Waiganjo among others.
Obinna speaks out after 3rd serious assault on 2mbili by baby mama
Comedian 2mbili is nursing serious injuries following an alleged physical assault by his baby mama.
According to a video shared by Comedian Oga Obinna, 2mbili is seen seriously bleeding as he explains that it was the third time the incident was happening.
"The number of physical abuses on 2mbili have been going up for a while now, 2mbili kids sometimes come here and my son told me his kids told him that their mother almost stabbed their father and even hit him with a glass," Obinna narrated.
Comedians Oga Obinna and 2mbili Pulse Live Kenya
Obinna revealed that the abuse is sometimes turned on 2mbili's kids with the aim of hurting him adding that reports to authorities have bore no fruits.
"I've decided to speak before it's too late also maybe one day he may have the courage to talk about it but for now just know that boychild needs all the help and love he can get to stay strong for the kids.
"Nobody is there for boychild!! We have gone even to the police station plus GBV offices and NOTHING WAS DONE," Obinna said.
Reacting to the story, comedian YY said 2mbili once covered up being burnt by hot water by lying that he had been attacked by goons. YY said it was important for men to know when to leave toxic relationships.
Elizabeth Sonia's message to Mr Seed after accusing him of being a deadbeat dad
Days after Mr Seed's baby mama, actress Elizabeth Sonia, threatened to sue him for child support, the Mombasa-based actress has now issued a message to her baby daddy.
The 'Kovu' actress has asked Mr Seed to publicly disown his son if he is unwilling to support the child, complaining that his absence in the boy's life is cruel.
Sonia went on to accuse the 'Only One' crooner of favouritism, saying that he treats his wife Nimo and their son Gold better than he treats his son Junior.
"Uchungu Nimo akijifungua aliskia ndio pia mimi niliskia. Unavyompenda Gold, mpende pia Junior. Kama huezi, leo mbele ya watu ukatae uhusiano kesho aje kuwa Diamond Platnumz au Obama watu wakusute wakmwambie ulimruka mwanao mwenyewe hadharani.
Mr Seed and Elizabeth Sonia Pulse Live Kenya
"(Nimo and I both experienced the pains of childbirth. You should love Gold and Junior in the same way and if you're not willing to, then disown Junior publicly. He may become the next Diamond Platnumz or Obama and people will remind you that you denied your son in public)," Sonia stated in an interview with Pwani FM on Monday.
Sonia earlier said Mr Seed has not been providing for his son for the last seven years, adding that the last time the singer saw his son was in 2019.
"For the last 7 years I have written such paragraphs and deleted them but I am tired. I want you to help me raise Junior, not send me money like you are doing me a favour and only when I ask or shout. The only upkeep I take from you is school fees and it's never on time," she posted on Instagram.
She further revealed that the last amount Mr Seed sent her was Sh5,000 but he requested that she return Sh2,000.
Gachagua makes fun of Samidoh over Karen Nyamu drama
Deputy President Rigathi Gachagua has urged mugithi singer Samuel Muchoki, better known as Samidoh, to sort issues around his family and baby mama.
"Wewe Samidoh ni rafiki yangu, na unajua vile tunakupenda na nyimbo zako lakini kuna pahali unatuangusha kidogo," the DP said.
This loosely translates to (Samidoh is a good friend of mine and we love his songs but he is causing us embarrassment.)
Pulse Live Kenya
Gachagua also made reference to an African proverb saying, "Samidoh needs to control his people because as the African proverb says 'an elephant never tires carrying its tusks."
Speaking during the burial ceremony of Trade Cabinet Secretary Moses Kuria's sister Pauline Nyokabi, Rigathi said that if things spiral out of control the government would tighten the allowance extended to him to travel abroad for shows.
"We will discipline you. We will not allow you to go overseas or we will limit you to going alone," the DP added, sending the mourners into a laughing frenzy.
TikToker explains why she showed Kenyans the number plates of her new car
Kenyan TikToker Alma Mutheu started the year on a high note and she has now acquired a new car after many months of toiling.
Alma took photos of her sleek ride and shared them with her fans stating: "Someone once told me that the strongest weapon is silence and hard work! And when the time is right, the Lord himself makes it happen! Thank you God for my first ride."
Thee Pluto and Moya David were among the first Kenyan celebrities to congratulate the TikToker for her achievement.
Fans, however, noticed that she didn't mind the plates on the car being seen and some proceeded to speculate on whether she owns the car or not.
Pulse Live Kenya
In an interview with YouTuber Commentator 254, Alma explained why she didn't hide the number plate like other celebrities normally do when unveiling their rides.
"People knew that I already had the car since I always go out with it for shoots but I honestly didn't know that photos of my car would go viral after sharing them.
"Mimi sikuona kama kuficha number plate ingesaidia kusema tu ukweli. I just hope hakuna mtu atanikidnap. (I don't think it was necessary to hide the number plates, to be honest, and I'm hoping that I won't be kidnapped in that case)," said Alma.
She added that she was aware that the plates were visible before sharing the images on her social media handles but it doesn't bother her.
Eve Mungai's promise to boyfriend Director Trevor on 5th anniversary
Content creator Eve Mungai and her boyfriend Director Trevor have marked five years since they took their relationship in a different direction.
The two creators who are among the top content-creating couple took on their social media pages to celebrate each other as they marked the major step.
Mungai on her Instagram penned a beautiful message where she described her relationship with Trevor as a blessing, Eve pledging to love her bae for eternity.
"Today we mark 5 yrs together and all I can say is thank you to God for the far we've come. Happy anniversary to the man I want beside me forever in my life. Thank you for being a blessing in my life and offering me a friendship that I have always needed my whole life🥹❤️ we've had our ups and downs but we've stood the test of time."
Eve Mungai and Boyfriend Director Trevor Pulse Live Kenya
"I always thank God for bringing you in my life, you're such a blessing and my most outstanding achievement, I will love you to day and forever 💕❤️," Eve wrote.
Director Trevor on the other hand described the last five years he has spent with Eve as the best time he has had, thanking her for the respect and trust they have shared.
Recommended articles
Morgan Heritage feature Otile Brown, Eddy Kenzo in new album [Details]
Boutross latest collabo & 4 other hits released this week
Andrew Kibe's Biography: Career, personal life, networth
Chipukeezy vows to expose prominent persons involved in land grabbing
Melody Sinzore opens up on rejecting offers to leave Radio Citizen
Nadia vs Arrow Bwoy: Fans debate over who their son resembles more [Photos]
Akothee confirms wedding, 12 years after divorce
Former Kiss 100 presenter Linda Nyangweso comes out as queer
Anne Kansiime 'teases' MTN Uganda CEO: Watch their amazing conversation