Ntalami's beef with Minne Cayy, Rapudo-Amber Ray break-up & more stories on #PulseUhondoMtaani
#PulseUhondoMtaani - Former NTV journalist Idah Waringa relocates to China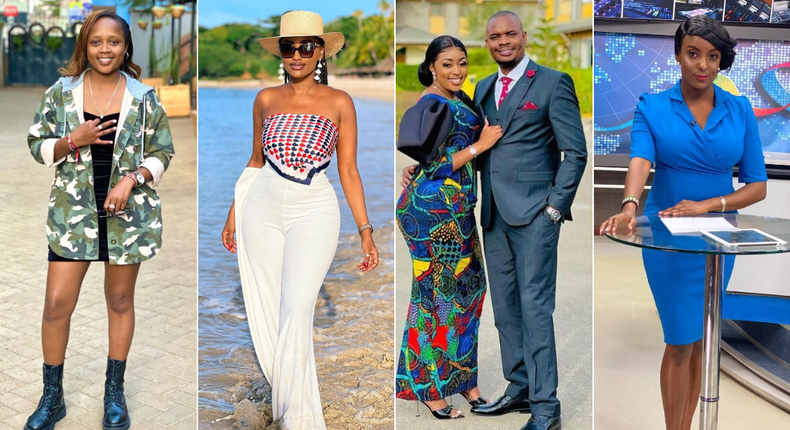 After breaking up previously and mending their differences Amber Ray and Kennedy Rapudo have broken up yet again.
While storms rock Rapudo and Amber's relationship, wedding bells are ringing as we await Akothee's wedding.
These and more stories on this weeks Pulse Uhondo Mtaani
MC Fullstop shares update on his irreversible health condition
Renowned reggae emcee John Maina, popularly known as MC Fullstop, has recently issued a heart-wrenching health update revealing that his condition has taken a turn for the worse.
This comes just days after he had to cancel a club gig due to ill health,in a post on his social media pages, MC Fullstop disclosed that his left lung has completely collapsed, leaving him with just one functioning lung.
He revealed that he had been diagnosed with tuberculosis in 2021, which had affected his lungs significantly and in 2022, he was diagnosed with tuberculosis of the throat, which further affected his ability to speak, run, walk, and carry out other activities.
"Hii imeenda literally. My left lung has totally collapsed nimebaki na moja. In 2021 I was diagnosed with TB ya lungs ikasosi lungs kabisa. 2022 nikapata TB ya throat nayo ikanimaliza sauti, running, walking, kuongea ni shida.
Amber Ray Kennedy Rapudo break up for the 3rd time
Influencer Amber Ray and Kennedy Rapudo's relationship seems to be on the rocks,this is after Amber Ray hinted at a possible break up with Rapudo.
On her Instagram stories, Amber said she was now ready single mother of two without going into details of the cause of her post.
"A new day to start as a single mother of two, #Donewithlove" Amber wrote.
Reacting to the statement by Amber Rapudo said the truth on their break up will eventually come to light.
"A lie has so many variations the truth has none, in less than two months we will all know the cause of the break up," Rapudo said.
Pulse Live Kenya
Rapudo said their relatiosnhip was just going throgh the challenges many others do.
"Just to address some of your concerns and rumors. Not that I owe anyone an explanation though. No, we haven't broken up and at this stage, I don't think that is foreseeable. Yes just like any other relationship, we have our own ups and downs but we always try to work our things out," he wrote on Instagram.
Michelle Ntalami finally breaks silence on the controversial incident with Minne Cayy
The CEO of Marini Naturals, Michelle Ntalami, has spoken out against women who shame each other on social media.
In a lengthy Instagram post on Wednesday, Michelle Ntalami condemned the behaviour, especially during a month when women should celebrate each other.
According to Ntalami, lines were crossed when Minne took their beef from the show to social media, TV and radio.
"I kept silent, but lines were crossed. The back-to-back insults, aggrandizing the drama online, profiting off it with merchandising, going as far as taking the attacks to National TV and Radio, coming for my bag and brand, bodyshaming other women online, hurling insults and profanity? ... You cross my boundaries," Michelle wrote.
Pulse Live Kenya
Ntalami believes there should be a clear distinction between showbiz and personal space. Drama on the show should remain on the show, and grown women should not tear each other down on social media.
She called for women to support and uplift each other instead of tearing each other down.
Michelle's beef with Minne Cayy began during a fancy dinner party on the Real Housewives of Nairobi.
Tensions soon flared between the two women, and Minne roasted Michelle's 'fake rich' Instagram lifestyle.
Conjestina Achieng secures job offer from Sonko after 8-month rehab journey
Former Nairobi governor Mike Mbuvi Sonko has made headlines again for a positive reason.
The flamboyant politician has offered former boxing champion Conjestina Achieng a decent job after her release from rehab.
Sonko took to Twitter on Wednesday to share his plan for Achieng's employment. He vowed to provide her with a stable job that comes with a good salary.
"This time round we are not releasing her to go back to Siaya. Immediately, she is discharged after fully recovering, I have already prepared a good plan for her where she will also be earning a salary," Sonko wrote.
Pulse Live Kenya
According to Sonko, Achieng's new job will involve serving as the head trainer in all his establishments, including the Salama Bling Beach Resort and Kimeremeta Safari Lodge.
"As a long-term measure, we are intending to open for her a boxing training centre where she will be coaching boxing. She will also serve as the head trainer in all the gyms in our establishments (Salama Bling Beach Resort, Kimeremeta Safari Lodge etc.)." Sonko wrote.
She will also be the assistant head of security and head of all female bouncers at Club Volume Mombasa at night and during peak hours/holidays.
"She will be the overall assistant head of security and head of all female bouncers at Club Volume Mombasa at night & during peak hours/holidays," he added.
The news of Achieng's discharge was also shared by Carol Radull, who thanked Mike Sonko for helping out Conjestina up to this far.
Sports presenter Fred Arocho leaves Radio Jambo after 14 years
After 14 years on the airwaves, popular Radio Jambo sports presenter Fred Arocho has bid farewell to the station.
In a heartfelt statement on his Facebook page, Arocho expressed his gratitude to the management and staff of Radio Africa Group for their support and guidance over the years at the station.
"I cannot believe how time has flown, it's now 14 years since I joined Radio Africa Group, a place I have made home," Arocho wrote.
"My time at RAG has taught me a lot both as a broadcaster and as a person, I will forever be grateful for the guidance and support in my role as presenter, and now as I leave I do so with pride and much satisfaction," he added.
Throughout his tenure at Radio Jambo, Arocho had also developed a close relationship with his fans, who he thanked in his statement for their unwavering support.
"To my fans who make me who I am, thank you very much for the unwavering support," he wrote.
Pulse Live Kenya
At Radio Jambo, Arocho hosted the weekend sports show alongside Toldo Kuria and Diamond Okusimba.
Arocho is among the founding presenters at Radio Jambo alongside others such as Gidi Ogidi and Bramwel Mwololo.
Shix Kapienga finally speaks about abrupt termination from Royal Media Services
Popular Kenyan media personality Nancy Wanjiku Karanja 'Shix Kapienga' has opened up about her sudden termination from Royal Media Services in 2020.
Speaking on the Iko Nini Podcast, Shix revealed that she was nervous when asked to see HR and had no idea what was coming.
"Unajua mi nilipiga simu asubuhi nashindwa hizi calls ni za nini, nashina nikiambiwa enda uone HR.
"(You know I received various calls on the morning of that day and i was like, what are all these calls for?)," Shix said.
Pulse Live Kenya
She was shocked to receive a termination letter and was unprepared for it, even though she had considered quitting to focus on her acting career.
"So unaanza kukaa chini unajiuliza okay HR nimedo? Nimekosea sasa wapi, unaanza kujiuliza tumkutano ni nini sikufanya?
"Ukifika hivi unaona barua ndo unapewa, and uko what? Unapatana na watu kwa stairs... Job imeisha effective when today!
Shix had been in the media industry for quite some time, starting at Getto Radio's sports show before moving to Hot 96, where she hosted Dropzone alongside Raptcha Sayantist from Monday to Thursday.
Akothee's lavish wedding gown: Price tag revealed
Singer Akothee has returned to Kenya after traveling abroad for her wedding shopping, as she eagerly awaits her big day in April.
Akothee has shocked many by revealing that she spent Sh624K on her wedding gown and Sh156K on her shoes.
She described her shoes as perfect for her big day, as they are comfortable enough to be worn for an entire day without causing any discomfort.
"The gown has cost me $4800 (Sh624K) while my bridal shoes have gone for $1200 (Sh156K) and you can put them on for the whole day. You guys will see," Akothee explained.
Pulse Live Kenya
Akothee has revealed that her wish is to be buried in her wedding dress, which would save her family the time that would have been spent looking for burial clothes.
"I know people don't love talking about death but I think I would have given my family an easy time. I would like to be buried in my gown and shoes," Akothee added.
Singer Akothee also mentioned that she has not bought the wedding rings yet because her fiancé, Schweizer 'Omosh', requested to take care of the jewelry.
She added that her husband does not like to see her spend money unnecessarily, and that is why he gets upset when Akothee makes certain purchases. As an example, she mentioned that Omosh often pays hotel bills in advance, which amazes her.
Why marrying at the peak of your career is a mistake - Daddy Owen
When it comes to finding love and building a successful career, many people believe that timing is everything.
While some individuals choose to prioritize their careers over their personal lives, others find themselves struggling to balance both.
Gospel singer Daddy Owen is one such person who has recently reflected on his life choices and the impact they have had on his career and personal life.
In a candid interview with former radio host Shaffie Weru, the musician shared some personal insights into his failed marriage, his decision to get married at the peak of his career, and his current approach to dating.
Daddy Owen said getting married at the peak of one's career could be detrimental adding that he wished he did not get married before he became famous.
"I think I got married very late, I wish I got married before the fame. That way I would grow into the fame. Getting married at the peak of your career is a different story," he said.
Pulse Live Kenya
Reports of Daddy Owen's marriage breaking emerged in 2020 before the two officially parted ways in 2020.
Reasons why the two parted ways are still unclear with Daddy Owen promising to reveal the truth soon.
"Kenyans do not really know the real story but one day I will sit here and tell you exactly what happened," he said.
On plans of remarrying, Daddy Owen made it clear that he hasn't given up on love and will wed again when the time is right and with the right person.
Idah Waringa leaves NTV & relocates to China
Former NTV sports news anchor, Idah Waringa, has landed a new job in Beijing, China.
She has joined China Global Television Network (CGTN), where she will serve as a news editor. Waringa announced her move on her social media pages, stating that it was a great challenge moving from sports, which has been the foundation of her career.
In her announcement, Waringa expressed her excitement about the new challenge she was taking
"Moved to Beijing, became a News Editor with CGTN English at HQ. Moved on from my beloved sports and onto a new challenge. Been having a nice time," she wrote on her social media pages.
Pulse Live Kenya
Waringa's career began as a sports reporter and anchor at Radio Africa Group before she moved to NTV. Her passion for storytelling led her to produce a short documentary titled 'Acakoro: From Grass to Grace,' which won the Best Kenyan Story at the 2018 Kenya International Sports Film Festival and was the first runner-up in the Best Video Documentary category at the AIPS Sport Media Awards in Africa.
In recognition of her work, Waringa was awarded the Excellence Award for Young African Journalists in Sports by the Government of Egypt and the African Youth Bureau in 2019.
Her investigative feature on match-fixing in Kenyan football, published in July 2020, brought to light the intricate web of players, referees, and 'money men' involved in the scandal.
Recommended articles
I love everything about you - Pritty Vishy unveils new lover [Photos]
Comedian Duncan Ochonjo's wife and son turn up for his funeral [Video]
TikToker Nyako apologizes to Lulu Hassan after online outburst
Terryanne Chebet introduces special person as she marks 44th birthday
Zari talks 'white wedding' with Shakib, respect for Diamond during Tanzania trip
Celestine Wakavinye brought to tears in sold out 'TTNT 4' show at the KICC
Linda Oguttu addresses mjengo reports, why Auntie Jemimah is not ready for marriage & more stories on #PulseUhondoMtaani
MCA Jane Waruguru's glamorous baby shower [Photos]
Netizens divided after video of Mustafa asking for Sh1.5M goes viral
Thika Sports Club, next stop for NCBA golf series
Big Ted's inspiring message to Kenya's rugby community
Fitness influencer Shiv Simani joins fight against sports neglect by gov't
Kipchoge wins Sh7.4M prize in Spain
Ombachi shares how career-threatening injury pushed him into content creation
Ruto donates millions after AFC Leopards beats Gor Mahia for 1st time in 7 Years
Ulinzi Stars midfielder returns from four-month injury layoff
Kenya's thriving sports culture: A deep dive into the country's passion for sports betting
The 8 largest events in Las Vegas 2023