8 great foods that naturally cleanse the liver
Detoxify your liver with these foods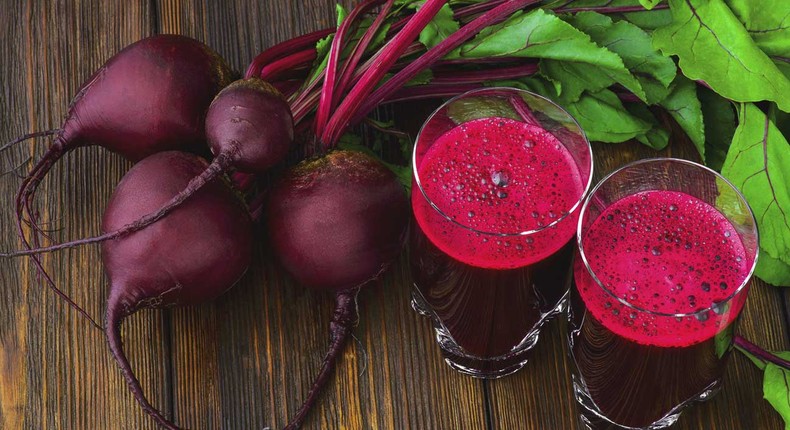 Since we have spoken about
A liver filled with toxins will not function as it's supposed to and it's a vital organ that eliminates toxins and waste from your body so it's very important to ensure that you have a healthy liver for your body to function well. Here are foods that help cleanse, rejuvenate and detoxify the liver.
Garlic is great for the liver as it helps activate enzymes in the liver that help clear out toxins. It also contains natural compounds which aid in the liver cleansing process and protect the liver from toxic damage. Eat 2 or 3 raw garlic cloves daily and include garlic in your cooking.
Beetroot helps stimulate and improve the overall functioning of the liver due to the beta-carotene in it. In addition, beetroot is a natural blood purifier. Simply add fresh beetroot be it in form of a juice or salad, into your daily diet for a week.
Lemons help detoxify the liver due to the antioxidants present in it which help activate enzymes in the liver, which aid detoxification. In addition, the high amount of vitamin C in lemons helps the liver produce more enzymes to aid digestion. Lemons also boost mineral absorption by the liver. Make lemon water at home by adding the juice of one lemon to a jar of water. You can even add chopped lemons instead. Drink this lemon water at regular intervals of the day.
By drinking green tea daily, you can help your body flush out toxins and fat deposits, while increasing high hydration levels. Green tea also protects the liver from the damaging effects of toxic substances like alcohol and also helps treat or prevent liver disease. Drink two to three cups of green tea daily but don't drink it in excess as it can have adverse impacts on your liver and other parts of the body.
Avocados contain potent chemicals that may reduce liver damage. Avocados are rich in glutathione, a compound required by the liver to cleanse harmful toxins and to function properly. The high amount of good fat in avocados helps reduce the bad cholesterol and increase good cholesterol and the liver easily processes the good cholesterol. Eat one to two avocados per week, for a couple of months, to help repair liver damage.
ece-auto-gen
This is another popular and effective liver cleansing food. It also improves the body's ability to digest fats. Turmeric also contains a liver detoxification enzyme called glutathione. Mix ¼ teaspoon of turmeric powder in a glass of water and boil it. Drink it twice a day, for a couple of weeks. You should also include turmeric in your daily cooking.
Apples are a good source of pectin, a soluble fiber that helps remove toxins from the digestive tract and cholesterol from the blood, in turn preventing the liver from being overworked. In addition, apples contain malic acid, a naturally cleansing nutrient that removes toxins from the blood. Eat one apple of drink a glass of apple juice daily
Being rich in glucosinolates, broccoli helps flush harmful toxins out of the body. The high fiber content in broccoli also improves the digestion process. Include some broccoli in your daily diet for a healthy liver and avoid too much alcohol, refined sugars, processed foods and excessive smoking.
ece-auto-gen
JOIN OUR PULSE COMMUNITY!
Recommended articles
Former Real Househelps of Kawangware actress Njambi parts ways with husband
Eunice Njeri welcomes newborn, reveals she secretly got married [Photos]
14 best prenatal vitamins for soon-to-be moms, according to experts
Juliani, Lilian Nganga welcome bouncing baby boy
5 signs you're ready to be in a relationship after being single for so long
15 hot and steamy ways to get yourself in the mood
5 places in the world you're not allowed to visit
Muitiriri's new role at NTV revealed days after being poached from TV47
Going to therapy and 4 other things we need to normalize about mental health