Great natural hair hacks you need to know about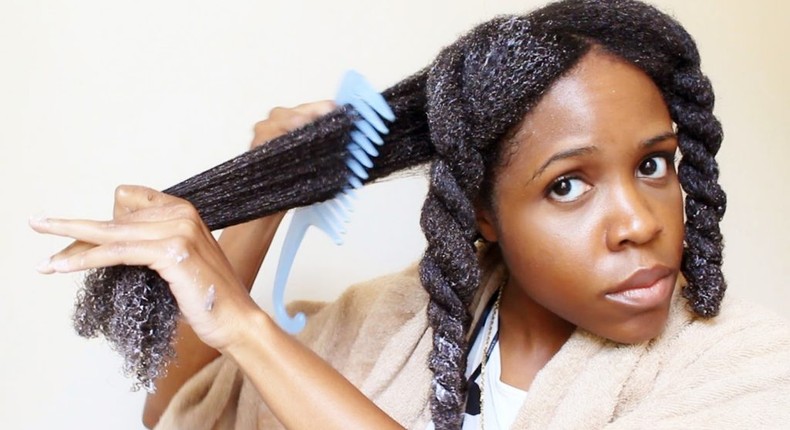 The natural hair journey is not particularly easy.
You have to put in the work and dedication if you want results. Many people think that it's easy to be a naturalista, till they give it a try and by the 5th day, they're tired and bored and go back to relaxed hair and weaves. Well, truth of the matter is, some of the most dedicated naturalistas out there live by a few hacks to make their lives easier and you can too. Here are some hacks you should know.
1. Storing hair pins and hair bands.
Obviously, if you join the natural hair movement, you're going to be using a lot of pins, scrunchies and hair bands to style your hair. They keep getting lost and you find yourself always buying more. What you wanna do is take a small empty can, it could even be a medium sized Vaseline can. Wash it then put your pins in there and the tiny hair bands, secure them around the can. That way, you'll be more organized.
2. If you suddenly cannot find your hair bands,
Cut the top band of your old stocking or a sock with a tight top part. This will serve as a great makeshift hair band or head band. You could also use a shoe lace as a hair or head band!
3. Slick down your hair by tying a head scarf if you want it to lay really well.
Keep the scarf on for a few minutes after styling and applying gel then take it off.
Scarf to lay the hair (Courtesy)
4. Add oil into your shampoo to make it more moisturizing, especially if your hair gets really dry after shampooing.
Coconut or olive oil will do or any other oil that you use, which is moisturizing.
Make a simple mask by mixing one part honey with two parts olive oil, heat it a bit by putting it in a small bowl and letting it float on hot water to allow the two products to mix, then, apply it on your hair all the way from the scalp to the edges, leave it on for about 20 minutes then shampoo.
6. To tame your dandruff.
Mix equal parts apple cider vinegar and water in a small spray bottle and spray this onto your hair after shampooing to help tame the dandruff.
7. If you're too lazy to wash your hair when you have cornrows or box braids,
baby wipes work great to clean the scalp.
Rodale
8. To clean your dirty brushes,
Pour hot water into a basin, add baking soda, vinegar and some detergent then simply soak the brushes for a few minutes to let the hairs loosen up and then clean your brushes. Depending on the type of brush you have, don't leave the brushes soaked in for too long.
ece-auto-gen
Try using your hands to detangle hair to reduce breakage. In fact, consider wearing vinyl gloves while detangling for a smooth job and less tacky job.
JOIN OUR PULSE COMMUNITY!
Recommended articles
6 reasons why your nipples hurt
Here are 7 things your partner does not need to know about you
Dress for success: 5 tips to make you look more powerful in suit
5 health benefits of eating boiled eggs
5 best places to propose to your girlfriend
How to get your crush without shooting your shot
Why do guys still masturbate when they have girlfriends?
Signs she will say yes when you pop the question
Ladies: Here are 5 dangers of wearing waist trainers