Style Guide: 5 essential outfits for concert attendees
What are the ultimate essential outfits for concert attendees?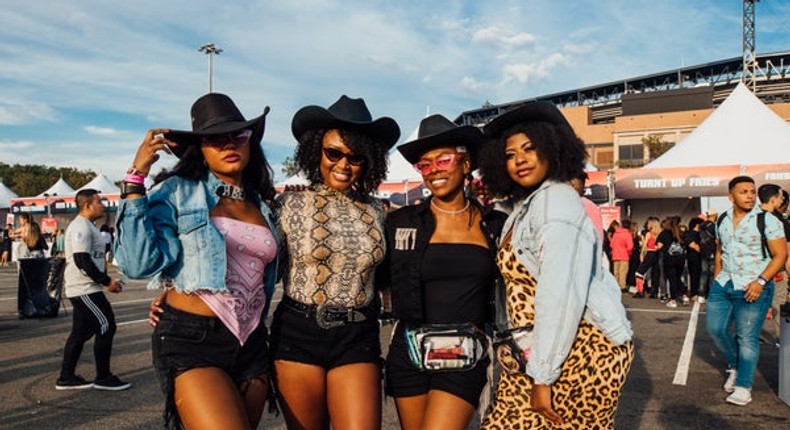 This is the season of many concerts and shows, and knowing the right things to wear makes all the difference.
Take any concert or show except dinner parties as if you are going for a hike because you will move around a lot.
1. Comfortable shoes, no sandals or slippers
Except you want your toes matched, pressed and bleeding, comfortable shoes, and not slippers or sandals, are a prerequisite for all concerts.
Sneakers and boots are essential, but the best footwear is black leather boots.
If you wear white shoes, do not be shocked if you do not recognise them anymore after concerts.
2. A fanny pack
Pulse Nigeria
You should never be seen carrying a handbag or a bag pack at a concert. A fanny pack should be around your waist containing your phone, cash, and your ATM cards.
3. Shorts or comfortable pants
Pulse Nigeria
You should not be seen wearing chinos, jeans, or long gowns at a concert. The number of people in the venue will have you feeling hot soon, except it is a dinner-like concert, if not, wear shorts for mobility and ease.
4. Less jewellery
Wristwatches fall, bracelets get snatched. The less jewellery you have, the easier you can move, the less you are afraid of it being lost or stolen.
5. Jackets/sweaters
Take a jacket or sweater along for when the concert is over, especially if it ends late at night. It might be cold at that time.
These tips do not mean you should not look your best at concerts, but put your comfort above everything else.
JOIN OUR PULSE COMMUNITY!
Recommended articles
Badagry Slave Route: Slaves passed these 5 notable stops on their journey of no return
Nikita Kering leads launch of Rihanna's Fenty Beauty in Nairobi
Willis Raburu and Ivy Namu expecting baby number 2
The beauty benefits of cucumber you didn't about
Yvette Obura teases Instagram in-laws with her new bae [Video]
Avocado: The health benefits of this fruit are priceless
Kamene Goro makes TV comeback 5 years after exiting Ebru TV
Miss England with Kenyan heritage faces racism, labelled 'Miss KFC'
King Kaka & Nana gush over each other as they celebrate 11th anniversary