20 minutes or less Noodles and beef stir-fry
Stir-fry is one of the greatest and quickest meals to cram lots of veggies and lean protein into a weeknight dinner plus its super simple and fast.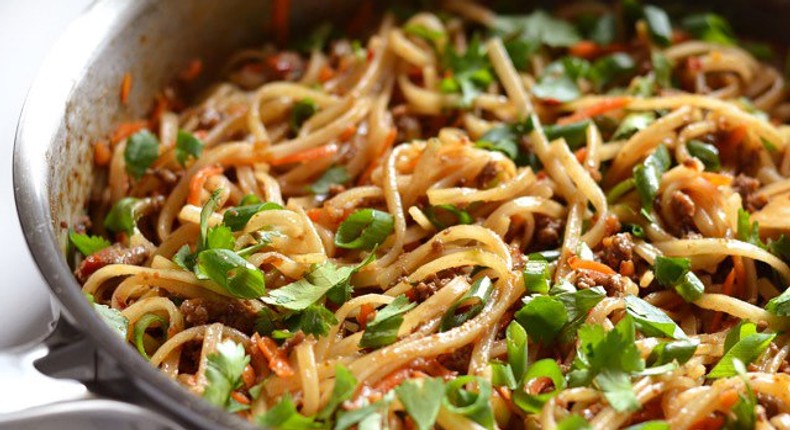 Ain't nobody got time to cook for 2 hours on a Tuesday night!
Aside from being quick and simple, stir-fry is very budget-friendly. Next time when you head to supermarket, pass by the  and buy the instant noodles, than doing the usual- cooking in boiling water and serve with vegetables or meat. This time around do a stir fry
• Noodles (you can use Indomie-30/=shs)
• 250g/500g mince meat (about 200/=sh)
• 3 Tbsp soy sauce (a bottle is like 170/=)
• 1 to 3 garlic cloves, thinly sliced/ crushed (garlic bulb costs about 10shs)
• 1 Tbsp grated ginger (10/=shs)
• Dhania- optional (5/= or 10/=shs)
You can add any other vegetable you might have, as long as it doesn't take long to cook or if it's readily cooked i.e- broccoli florets (steam beforehand), pre-cooked peas or sweet corn.
Prepare the noodles: Cook the noodles according to package directions. Be careful not to overcook the noodles — it's better to slightly under cook than over cook.
Drain the noodles: When read, rinse the noodles with cold water. Drain the noodles and shake the strainer a few times to get the noodles as dry as possible.
Toss the noodles with a little vegetable oil: Return the noodles to the pan you used to cook them and toss them with a little oil. This prevents them from sticking and forming a big mass in the wok.
The meat/sauce:Heat vegetable oil in a large wok or skillet (Pan) over medium-high heat; cook and stir beef until browned, 3 to 4 minutes. Move beef to the side of the wok and add ginger, garlic broccoli, bell pepper, carrots, green onion, and sugar to the center of the wok.
Cook and stir vegetables for 2 minutes: Stir beef into vegetables and season with soy sauce. Continue to cook and stir until vegetables are tender, about 2 more minutes. Then add the noodles
Stir until everything is coated in sauce and any extra moisture has been absorbed by the noodles. Turn the heat off and top with fresh dhania leaves.
JOIN OUR PULSE COMMUNITY!
Recommended articles
5 traditional qualities money has replaced in modern relationships
Is love transactional? - First episode of Pulse LSL premiers [Video]
5 things you can do if you are stuck in a queue for hours
5 reasons you should consider having a court wedding
The perfect nail color to wear when your boyfriend proposes
4 side effects of eating peanuts in excess
Miracle Baby's girlfriend treated to surprise baby shower [Photos]
Badagry Slave Route: Slaves passed these 5 notable stops on their journey of no return
Here's why sleeping with your phone in bed can affect your health