How billionaire Manu Chandaria is spending his retirement
After retiring, even Manu Chandaria's protégés know not to bother him with financials and balance sheets.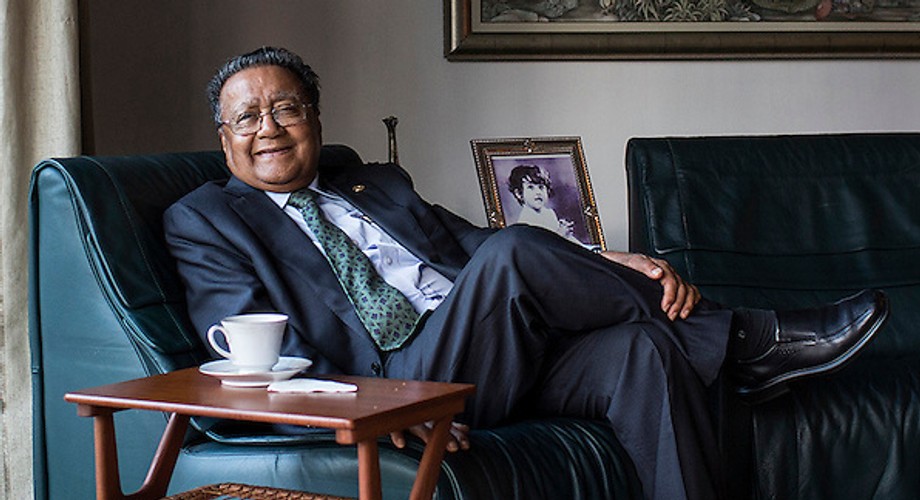 Billionaire Manu Chandaria has revealed how he has been spending his retirement years now that he is 93 years old.
Chandaria said that he has totally disconnected from his business empire and lets his able apprentices run the show.
"Businesswise, I have retired from everything. If someone asks me what is happening in Comcraft Group, Kaluworks or Mabati, I would not answer," he told the Standard.
"Unless you detach completely - even from that which you have been running for these many years - you will always be thinking about it and will not be in retirement," the businessman added.
Chandaria focused on social impact after years of success in business
Chandaria still has to wake up at 6:00 a.m. but nowadays the businessman doesn't have to go through the trouble of preparing to start work at 9:30 a.m, instead takes his coffee between 10:00 a.m. and 11:00 a.m.
He also receives guests from time to time for discussions on social impact.
Even his proteges in business know not to bother Chandaria with financials and balance sheets.
"I think it was a good decision because for how long can you continue? How long can the number twos and number threes and fours remain there? They have to become number one at some point," he said regarding leaving his apprentices to run his business empire.
One of the responsibilities that Chandaria still holds dear is being chancellor of the United States International University (USIU).
"There are institutions with which I am connected. Several institutions come to me. But normally I will not go and say I would want to do this. As chancellor, I am the titular head of USIU, but I cannot intervene on anything. All my duties are once or twice a year during the awarding of degrees; I have to be there to sign the papers," he said.
"Otherwise I have no connection with them; they once in a while phone me and say how things are. But for me, I don't want to go into things; as a chancellor, you cannot," the billionaire added.
Pulse Live Kenya
Speaking on his simple life despite being one of the richest Kenyans, Manu noted that he appreciated that Kenyans were able to associate him with how he has been able to impact lives.
"It is a good thing that people know Manu Chandaria because of what he has done. The country can tell who I am without meeting me because through what we do, people feel I am a man who has love for the country," he says.
"They don't know I have a Rolls (Royce, which is one of his expensive acquisitions), they don't know about the mansion, they don't even know where I live. But they know Manu…and that is how they should know Manu," he said.
JOIN OUR PULSE COMMUNITY!
Recommended articles
Experience the thrill of 'Call of Duty' - Get ready to play!
Despite a shortage of new Naira notes, churches in Nigeria have barred offerings with the old currency
Safaricom CEO speaks on KRA's plan to monitor Kenyans' transactions
Finding work without a skill in the the UK may now be impossible for Nigerians and other migrants
5 things I wish someone had told me before joining ALX Africa
Kenya's economy on shaky ground with majority of diaspora inflows coming from just 5 countries
China has advised the US to keep away from its affairs with Africa and instead focus on its own issues
East Africa Community continues push for unity as it considers adding Somalia to its regional bloc
Ghana is keen on boosting its economic relationship with other countries