How to make homemade spaghetti from scratch
Instead of buying from the supermarket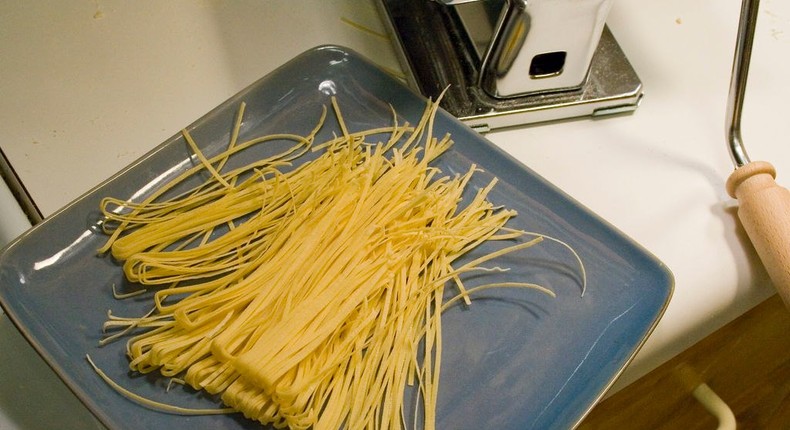 Did you know that you can actually make your own spaghetti at home instead of buying from the shop?
Well, now you know. And the best thing about it is that the ingredients you need are right in your kitchen. So when you feel like eating spaghetti and you don't have enough money to buy, just get to your kitchen and make yourself original pasta.
2 cups of all-purpose wheat flour
Start by mixing the salt and flour thoroughly to ensure the salt is evenly spread.
Add the eggs and cooking oil (preferably olive oil) into the flour and whisk thoroughly.
Since the flour won't be absorbed into the eggs only through whisking, use your hands to knead.
Knead the dough like you would do with the chapati one until all the flour is absorbed. If there are still remains of wheat, sprinkle a few drops of water.
Once you have gotten a soft dough, let it rest for a least 30 minutes and cover it with a plastic bag.
After that, cut the dough into large wedges.
Sprinkle wheat flour on your rolling surface to prevent the dough from sticking.
Now start rolling your cut wedges while trying to give them a rectangular shape.
Ensure you roll it into a very thin sheet since they will increase in size when cooking.
If you have a pasta machine, you could use it to cut small strips of pasta. But if not, worry not. There's always an alternative.
ece-auto-gen
Spread out your rolled dough on the surface and use a knife to cut thin strips.
Sprinkle the noodles with flour to prevent sticking.
ece-auto-gen
If you are not cooking them immediately, hang them to dry. However, you do not have them to let them dry if you are cooking immediately.
Isn't that simple? Give it a try.
JOIN OUR PULSE COMMUNITY!
Recommended articles
3 reasons you should apply lime juice on your face
NTV anchors Ben Kitili & Lofty Matambo promoted to senior roles
15 of the wildest animal specimens I saw hidden underneath one of the world's largest natural history museums
Cucumber: The health benefits of this fruit will leave you speechless
KTN anchor holds dreamy beach wedding ceremony on her birthday [Photos]
Fairytale bride: The 3 dresses Rita Dominic wore on her wedding day in detail
Check out how Rita Dominic and her husband looked at their white wedding
The way of men - How the 1st inaugural men's event went down
DIY Recipes: How to make Sausage salad