This is how Hillary Clinton could still be to be president before Trump is sworn in… US constitution allows it
Hillary Clinton still has one long shot for presidency; even though it's near impossible, it's still doable and sure it can get her to White House.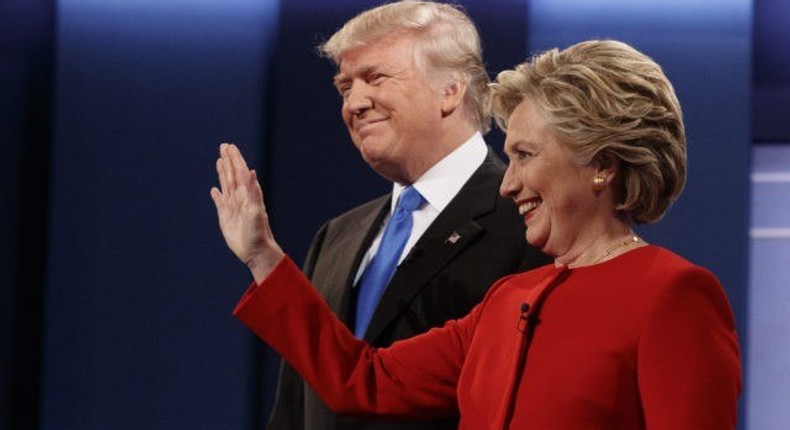 To be clear, Hillary Clinton defeated Donald Trump by 337,636 popular votes; tallying is still going on.
Trump was declared winner because he clocked the 270 Electoral College votes threshold needed for one to be president.
According to US Constitution, chosen electors of the Electoral College are the real people who vote for US president, and not the over 100 million Americans who cast their votes on November 8th.
Electors of the Electoral College will meet on December 19th in their respective state capitals to seal the fate of American president.
US constitution still allows electors of the Electoral College to change their mind and vote for another candidate.
New York Post explains that electors of the Electoral College can refuse to support the candidate to whom they were bound, or from abstain from voting altogether when they meet in December 19th.
In simpler term, the 45th US president will be decided on December 19th when electors of the Electoral College meet.
An online petition has been started asking the Electoral College to withhold their support for Trump when they meet on December 19th, following violence that erupted across US cities when Trump was declared winner.
CBS Pittsburgh reports that the foundation for the petition is the fact that Hillary Clinton won the popular vote, something that Trump himself has complained about in the past.
"We are calling on the Electors to ignore their states' votes and cast their ballots for Secretary Clinton. Why? Mr. Trump is unfit to serve. His scapegoating of so many Americans, and his impulsivity, bullying, lying, admitted history of sexual assault, and utter lack of experience make him a danger to the Republic. Secretary Clinton WON THE POPULAR VOTE and should be President." An excerpt from the petition read
A total of 538 electors of the Electoral College will decide whether Trump's presidency will be snatched from him and handed to Hillary Clinton when they meet on December 19.
Clinton would need more than 20 republican electors of the Electoral College to go rogue and vote for her.
Whatever electors of the Electoral College decide on December 19, they would still need US congress (Parliament) to approve.
And US congress is controlled by Republicans; so Clinton's chances of becoming President as so slim. Unless God says otherwise, she isn't occupying White House.
JOIN OUR PULSE COMMUNITY!
Recommended articles
Abolition of boarding in primary schools splits Kenyans [Reactions]
Ruto invites Facebook and Google bosses to Jamuhuri Day Celebrations
Interior CS Kindiki addresses the state of security ahead of the Azimio rallies
Kenya asks World Bank for Sh92 billion loan
Why Murgor sisters withdrew charges against Ndichu brothers
Ruto's Cabinet donates Sh17 million to National Drought Mitigation Appeal Fund
Ex-IEBC CEO sentenced to 4 years in jail for Sh1.3B irregular tender award
3 arrested in connection with shooting of senior chief
Sifuna declares admiration for his celeb crush & gets unexpected response [Video]