5 reasons why you are always tired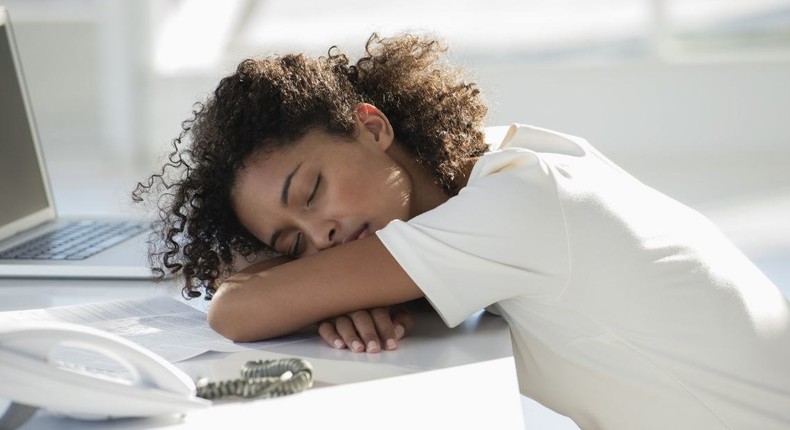 Ever woken up tired?
The whole day feels like a prolonged evening from a day spent filing and lifting boxes.
It's like you're in constant need of a power nap, every activity takes a toil on you and frankly, everyone is noticing your level unproductiveness. It's a sad state really, you can't even afford to be genuinely excited over anything because you're super-duper tired.
If you can relate, then there's a high possibility that these are your problems.
1. You're not getting enough sleep
Five hours of sleep are adequate to work on for another full day but if made into a daily routine, You're body will accumulate the extra exhaustion it's not getting the chance to deal with and finally crash. Medically, a healthy mind requires seven to eight hours of sleep. Take your time.
2. You're eating too much junk
Low metabolism means lower levels of energy as carbs are taking longer to be broken down. Also, the amount of toxic you're feeding your body requires more energy for your kidneys, liver and heart to keep up with.
Some people over feed, others over work themselves (which can also lead to exhaustion) and others get an overall sense of exhaustion because of the mental burden.
4. You're not drinking enough water
Sometimes all you need is a glass of water to boost up your system. Health gurus say that thirst is a sign that you're already very dehydrated. Take enough water to keep your system running smoothly and efficiently for longer active hours.
5. You're not working out enough
Fitness has over the time been defined as the ability to jump in and endure whatever strenuous situation you find yourself in. Working out keeps your body alert and strong enough to take up new challenges.
JOIN OUR PULSE COMMUNITY!
Recommended articles
Why Amazonian men willingly father children who are not biologically theirs
Since bed bugs are currently taking over Paris, how deadly are they?
Who rocked it better? Ilebaye Odiniya or Yara Shahidi?
OctobaFest Kisumu edition: A harmonious fusion of music, fun, & economic boost
5 lies every girl has told her boyfriend before
When women don't wash their bras often, these 5 things happen
3 easy ways you can increase your daily protein intake
It's dangerous to rest your legs on a car's dashboard, here's why
Vinka goes shooting: 5 benefits of shooting at a gun range