Hot blogger opens up about her pregnancy for the first time ever
More than a year after her Mt. Kenya engagement broke the Internet; Sharon Mundia of thisisess.co.ke became Mrs. Lonina Leteipan in an invite only wedding held at the exquisite Medina Palms in Watamu.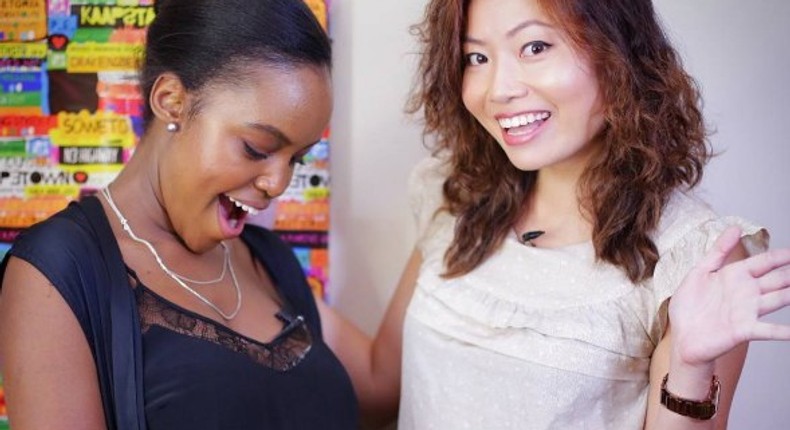 A few days after her nuptials, the beautiful fashion blogger posted this, sharing her excitement about her big day.
"Truly had the most beautiful wedding day a girl could ask for and was so happy with every single moment! But more so, that I now get to start this new journey with my love."
After her wedding, she disappeared on social media only to resurface with this post announcing that she and her husband were expecting  their first born. "Merry Christmas from me and my growing family."she captioned the photo.
Soon after this post, the blogger who use to be very active on social media once again disappeared leaving her fans in dismay over her absence.
Over the last few months, This is Ess' presence on her personal social media pages may have been dwindling but she is very active on her 'Our 2 Cents' You Tube Channel which she hosts with friend and colleague Susan Wong.
On a recent episode of the wildly-popular show, This Is Ess opened up about her bun in the oven. This was through a series of questions posed by her co-host Susan Wong about her pregnancy this far.
"How are you feeling?" Susan asked to which Sharon replied with "I'm feeling pretty good actually and I'm really eager to meet this baby. I'm so ready!"
She then went on to disclose that her baby is the size of an eggplant or a water bottle according to two apps that gave her a rough estimate of her baby's size. But that is not all, the baby has already started kicking, an experience Sharon describes as 'the most exciting thing ever'.
"Feeling the baby kick is the most exciting ever…even when I'm feeling horrible or I'm in pain and I feel the baby kick it just instantly makes me feel okay. And I'm like; okay ill just suffer a few months longer like this .It's one of the best things!" she said.
And just like other mothers-to-be she has her food cravings and aversions.
"I' ve definitely  not had any solid cravings or solid food aversions. But one thing I'm gravitating towards is mangoes. I love me some mangoes and I'm happy they are in season. I'm gobbling several mangoes this season…I have aversions to the smell of onions and too much of cheese." she disclosed.
Check out her pregnancy journey so far below:
This is Ess Opens up about her pregnancy
JOIN OUR PULSE COMMUNITY!
Recommended articles
Amazing transformation of 21-year-old man bullied for being born different (video)
Abel Mutua's movie makes over Sh4M in 5 days
How Janet Mbugua's husband Eddie landed Sh240 million deal with Chinese investors
5 things you should never do to please a woman
Why do guys still masturbate when they have girlfriends?
Janet Mbugua's husband thrown at the centre of nasty fight at Ole Sereni Hotel [Video]
British MP claims she didn't know her flat was owned by the Kenyatta family
I spent Sh800K - Vera speaks on begging for money to fund lavish Baby shower
Shika Simu yangu bro, we need you - Eric Omondi begs Eddie Butita