DNA results for the Kakamega twins is out-Details
Kakamega twins saga comes to an end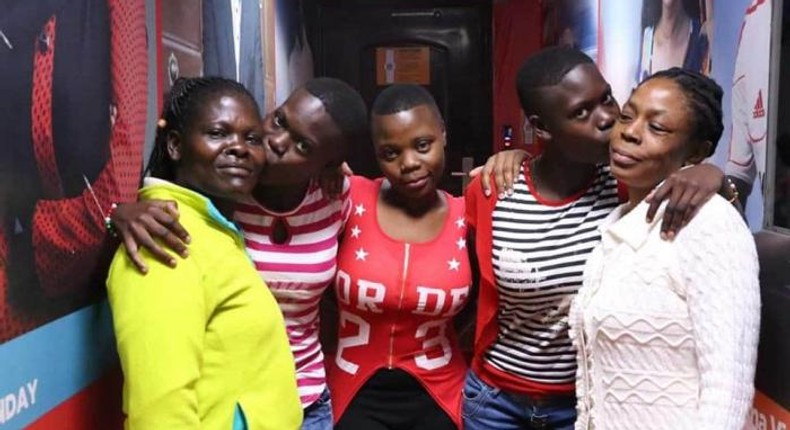 DNA results for Kakamega twins who were separated at birth and reunited several years later through Facebook are out.
The test which was conducted by Lancet Pathologist established that Sharon Mathias and Melon Lutenyo are twins.
The tests further confirmed that their mother is Rosemary Khaveveli Onyango.
A report released on Saturday by Lancet Kenya read that "They (Sharon and Melon) share identical DNA profiles, with the 23 allelic loci tested show 100% perfect match, which is consistent with the two being biologically twins".
The tests further confirmed that Mevis and Melon grew up thinking that they are sisters, they are not biologically related.
DNA samples from Mevis Imbaya, Rosemary Khaveleli Onyango, Angeline Omina Matias and Wilson Lutah Maruti were used to bring the case that attracted the attention of the DCI to a logical conclusion.
Pulse Live Kenya
The story of the three ladies caught up in the saga; Melon, Sharon, and Melvis dates back to nineteen years ago when they were born in the same hospital and could have been separated at birth.
Their mothers Rosemary Khaveveli and Angelina Omina gave birth two days apart with the latter being given two girls who she named Melvis and Melon.
Angelina named her baby Sharon.
Pulse Live Kenya
Melvis and Melon were raised together while Sharon was raised separately until nineteen years later when she reunited with her twin sister through Facebook.
Prior to receiving the DNA results, the three vowed not to let it split them and stated that they would continue living as sisters.
They also stated that they would regard both Rosemary and Angelina as their parents.
JOIN OUR PULSE COMMUNITY!
Recommended articles
Uhuru warns Africa's GDP may fall by 30 percent
DCI summons Nairobi acting governor Ann Kananu
CBK revokes mobile payments service provider
Ruto and Waiguru speak after hearty reunion [Video]
Two teachers flee with Ruto's Sh1 million cash donation
Ruto pens birthday message to Uhuru
Governor Anne Waiguru joins DP Ruto's UDA
Wheelbarrow gets new meaning during Ruto's tour of Ukambani
Find out why Kenya is at the forefront in assessing the security situation in Mali