Ngina Kenyatta roasted over her speech on Youth Empowerment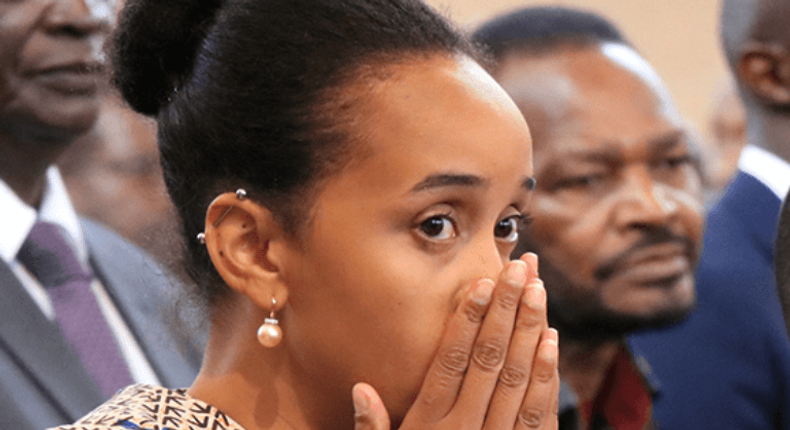 President Uhuru Kenyatta's daughter, Ngina Kenyatta faced the wrathof Kenyans after delivering a speech on youth empowerment at Strathmore University.
In the speech which was delivered at the African Philanthropy Forum at the Strathmore Business School in Nairobi last Friday, Ngina urged African youth to venture into new and innovative fields as a way of addressing unemployment.
While the speech was impressive, netizens did not take it kindly in the face of harsh economic times witnessed under President Kenyatta's administration and the soaring unemployment among the youth with the government appointing senior citizens (some in their 80's and 90's) to plum government jobs.
Kenyans on Twitter army trailed their guns on Ngina, pointing out that she has no idea of the pain of unemployment having been born in a wealthy family and with her father serving as the President.
KOT blamed her family for the hardship Kenyans were going through and reminded her that she shouldn't brag about Moses Etot (a young man from Turkana sponsored by the Kenyatta Trust to study petroleum engineering in China ) and yet there were children out there schooling under trees and some who didn't even have access to education.
Below is how netizens responded to her speech.
@kiptoomanuu How can Ngina Kenyatta whose father is the president, and grandfather former president advise the common youth on how to beat unemployment?.. Waiter ongeza tot hapa🙄
@orscrz Ngina Kenyatta should leave statehouse & live in pipeline for one year with no family backing surviving purely on sponsor money & loan apps; only then can we listen to anything coming out of her mouth.
@Dmarigiri_ How can a Born in a wealthy family advice ordinary Kenyan youths😁😁...? It's like Carnivore advising herbivore on the merits of eating Flesh and She doesn't know what poverty means. The only thing Ngina Kenyatta has is impeccable English.
@allen_arnold Ngina Kenyatta should raise the topic of youth empowerment kwa family dinner not anywhere else. Or even better, at a family get together at Gatundu. Hizo zingine ni pang'ang'a. Her family is behind 80% of the youths' sufferings in Kenya.
@xtiandela It's stupid attacking Ngina Kenyatta!! Is it her fault that she was born privileged? She is doing the most she can do to make Kenya a better place.
@nyobs Unatetea Ngina from your headquarters hapo bedsitter, wewe unatetewa na nani?
@gabrieloguda The CEO of KICC is President Uhuru Kenyatta's niece. But instead of Ngina Kenyatta advising her cousin how not to run down a state corporation, she is busy lecturing Kenyan youths on how to find non-existent jobs. Baloney.
@Benogola There's not a single thing Ngina Kenyatta knows about growing up as a youth in Kenya. No youth should listen to her.
@geraldngaopk Dear Ngina Kenyatta, Kindly Lecture your fellow Millionaires. Do you know how much a packet of Unga Costs? Do you know fare ya Embassava ni how much? Anyway Uko State House Mimi Niko Mathare Ghetto.
@bevalynekwambo3 Ngina Kenyatta lecturing us😈 Is she even a Kenyan youth? 🚮🚮 Anyway listen to the message ignore the kenyattaness in it
JOIN OUR PULSE COMMUNITY!
Recommended articles
Sifuna declares admiration for his celeb crush & gets unexpected response [Video]
Security breach forces police IG to miss Ruto event
Unicaf & the University of Suffolk announce 3 new British Bachelor's Degree programmes
Luo Council of Elders chair appeals to Raila over planned protests
IEBC vice chair Juliana Cherera resigns
Police probe murder of Recce Squad officer in Nakuru
Ruto's instructions to Interior CS Kithure Kindiki ahead of Raila's protests
Youthful MP speaks on nearly losing life during foreign trip this week
Ruto's online exchange with Raila at night leaves Kenyans divided