This is what happens when a Bunch of Media personalities sit together for a meal and Talk matters Internet and Entertainment.
Guests included the likes of TV personality Willis Raburu, Capital FM producer Joe Muchiri, Twitter bigwig Xtian Dela and so many more.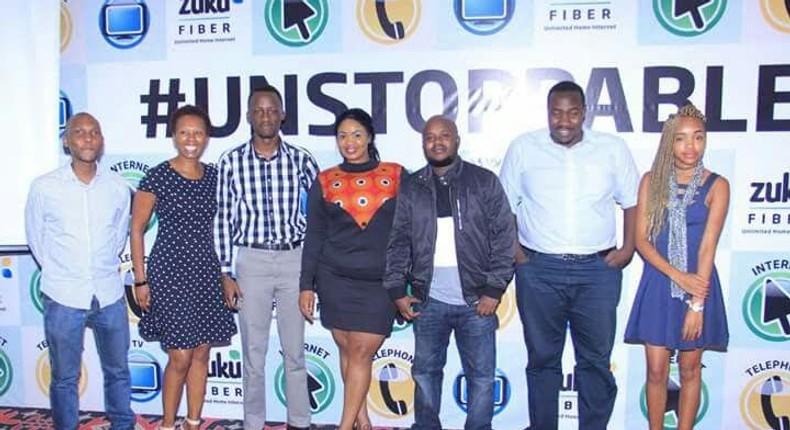 Zuku is the biggest provider of affordable entertainment and connectivity across East Africa.
And through Wananchi Group, Zuku Fiber has taken bold steps in revolutionizing the communications landscape through the delivery of innovative, value for money entertainment a day broadband Internet services in a brilliant manner that not only inspires but also delights all clients - residential and business alike.
Through a theme titled #unstoppable, Zuku Fibre had a major launch at a sumptuous dinner held at the Sarova Stanley where social media influencers, media partners, journalists and bloggers were treated to tasty meals and drinks as the launch went down for over two beautiful hours.
Guests were treated to a cozy afternoon of fine dining and wining as Josephine Gathithi, the Marketing Manager at Zuku outlined the wonderful offers that Zuku Unlimited Internet was bringing to customers through a thorough PowerPoint presentation meant to open up the World to the endless possibilities to be found in the unbelievable Zuku unlimited Internet.
Guests, who included Twitter Bigwig Xtian Dela, Citizen TV host Willis Raburu and Capital FM producer Joe Muchiri were taken through the journey of Zuku and wowed by the everlasting thrill and entertainment the new Zuku deal would bring into their lives.
As the treats went on Michael Dabaly, Sales, Marketing and Corporate Communications Director who also took to the podium to ram the point home and make an even better - and stronger point - for the amazing possibilities Zuku unlimited Internet access meant.
Digging deeper into the reason behind the bold tagline # unstoppable, Mike explained that this deal offered a truly unlimited high speed Internet access to all homes at just not an affordable fixed price but also unstoppable usage all day and night, Sunday to Sunday..
Under this heaven sent deal, Zuku clients will not only unshackle themselves from the limiting chains and bondage of expirable bundles but also get to enjoy incredibly thrilling marathons of nonstop entertainment from sports to movies to news to music and even unquenchable social media indulgence.
As a homegrown East African brand established with the sole aim of making quality home entertainment for millions, Zuku Fiber exists in over 300,000 homes across Nairobi and Mombasa - even in the neighboring land of charming Swahili culture, Dar.
You don't know what you're missing until you're sitting in your cool house, lying next to that new girlfriend you've just started going out with, watching back to back romantic movies and surfing the Internet for hours and hours and hours on end.
There's nothing you can't do. Nothing you can't archive. No place you can't go. And nobody you can't impress.... With the new unlimited Zuku Fiber arrangement.
Grab some chicken wings now... And head home to a have weekend blast... Courtesy of Zuku Fibre.
Recommended articles
KBC unveils veteran journalist to replace Catherine Kasavuli
Zari's message leaves fans speculating as Shakib responds to ex-lover's claims
Pritty Vishy's special message to Stevo Simple Boy as he mourns father
News anchor Victoria Rubadiri treated to beautiful birthday surprise [Video]
Kevin Mboya finally speaks after trip to surprise girlfriend in Kwale
I have children but I have never married - Kamene Goro's lover clarifies
Useful Idioty's promise to anyone that returns his stolen iPhone
Why Abel Mutua and Judy Nyawira may be forced to redo their wedding
Veteran Radio Maisha presenter signs off in emotional farewell after 13 years