Why Hart the Band were arrested at Koroga Festival
Hart the Band forced to "Uliza Kiatu" in police custody while at Koroga Festival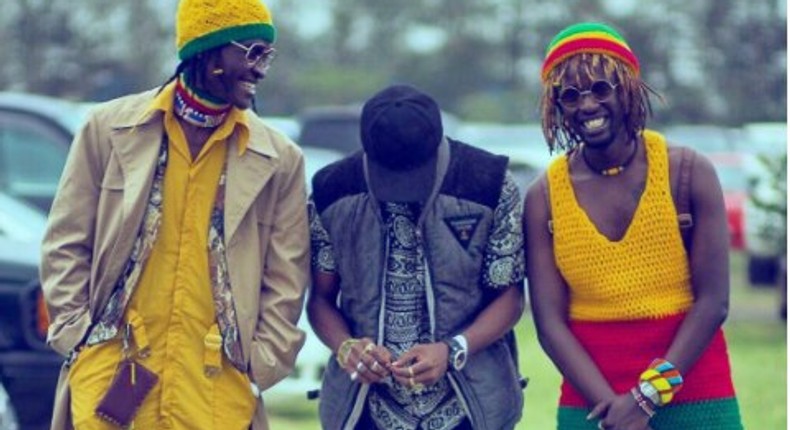 Koroga Festival went down at the Carnivore grounds bringing together revelers who love to have a good time.
Diamond Platiniumz from Tanzanian Headlined day two of the event with a electrifying performance that carried away the crowd, leaving them yearning for more.
But just like any other show side-shows did not miss out as the famous Kenyan boys band Hart the Band got themselves on the wrong side of the law.
The three member band was arrested by police officers minutes after Diamond Platinumz got on stage at the much hyped Koroga Festival.
They were forced to spend almost 12hrs in police custody while begging  the police that they were not guilty. The three were forced to stage their own Koroga Festival in Police custody as they could not get time to see how Diamond Platinumz is entertaining his fans.
According to the Hit Makers of the Song "Uliza Kiatu" they were involved in a car-chase with the police officers at the parking lot at Carnivore grounds before being arresred.
The boys went had to reveal that people who originate from Eastlands always never wait on the police officers and therefore they decided to run away.
"Please understand this, we had not done anything wrong but from where we are from- the streets of Kayoleleshwa- when we see the cops coming towards you ,it's either you take a u-turn && run or wait up for them a and feel the wrath  we decided to go with the latter – ruuunnn!!! like in every great police /robber movie ,we got arrested this was when sh** got real  put in mind the fact that ,the whole essence of running is not to get caught" Captioned Hart the Band on the social Media.
The band went ahead to regret why they did not opt to wait for the police and have a one on one as they say communication is always key.
"I guess we didn't get the memo  after getting arrested ,being thrown in jail ,spending almost 12hrs in a back _& forth trying to convince the cops that we didn't run because we were in the wrong – we learnt a very important lesson  communication." Wrote Hart The band on a long post
"So yesterday at koroga festival minutes after diamond ( @diamondplatinumz ) got on stage this happened we had a slight altercation with some police officers  it was like a movie we were being car-chased all round the parking lot by police officers left right and centre  for a second we felt like we I were in a fast & furious sequel .
The group went ahead to advice their follower that how you address someone and fisrt impression decide the  direction of your converstion.
"how you address someone at the first instant is key to deciding the direction that conversation will take #truth  whether or not you are the one on the right / wrong #trustus also, our reaction when the cops approached us brings the question that, if those who are supposed to protect you instill fear in you – how safe are we  forgive our manners ,hope you had a productive monday _& if not then remember tomorrow's another day to better your craft _& yourself ♥♥♥ we h_♥rt you all in ways you can't understand #jahblessings _& guidance."
Recommended articles
If there's a video of us saying she's single, please share - Terence Creative
What sparked Eve Mungai's fiery reaction after Commentator 254's baby news
Wakadinali's Domani Munga takes a break due to health issues
Amapiano is just a rebranded version of Ghana's Azonto – Samini
New animated film JESUS (2025) set to break ground in more than 2000 languages
Christina Shusho's Biography: Early life, start of music career, husband & 3 kids
'Twa Twa' Pastor explains reasons parents should not kiss their children
WaJesus family commemorates 6th anniversary with exclusive love series
Mbogi Genje's Smady Tings finally reacts to Jacky Vike's open crush on him