Kenya loses border dispute case with Somalia at ICJ
Kenya has lost the first round in the border dispute between Somalia and Kenya.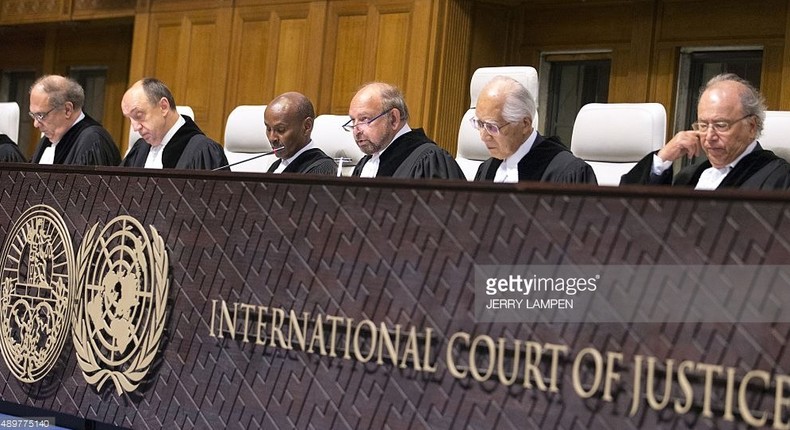 Kenya has lost the first round in the maritime border dispute between Kenya and Somalia.
Judges at the International Court of Justice (ICJ) on Thursday dismissed the two reasons tabled by Kenya that there exists an alternative method of resolving the matter and therefore the case is invalid since the alternative method had not been exhausted.
In a ruling delivered on Thursday, the court's President Ronny Abraham poked holes into a Memorandum of Understanding signed between Kenya and Somalia.
"The question before the court is whether the parties agreed to a method of delimitation (of the area under dispute) other than the court," the 66-year-old French judge told the court.
In 2009, Kenya and Somalia reached an MoU, which was deposited to the UN in 2011. The agreement had stated that the border would run east.
The Kenyan legal team also argued that the court lacked jurisdiction since both Kenya and Mogadishu had agreed on an alternative dispute settlement.
Kenya joined the UN, in 1965  and indicated that it would agree to the court's general jurisdiction only as long as there were no alternative methods of resolving disagreements.
Somalia, lodged the case with the ICJ in August 2014 claiming that diplomatic negotiations "have failed to resolve this disagreement,"
The decision means that Mogadishu has won round one of the dispute and the case will go to a full hearing at a date to be announced by the International Court of Justice.
Attorney General Githu Muigai, who was in court during the hearing had earlier said Kenya would only agree with the courts ruling which if it goes in Kenya's favour, paving way for the two countries to get back to discussions as contained in the MoU signed in 2009, but if it losses, it will file a petition and have the matter handled by the international court.
Kenya lays claim to a triangle of water stretching for more than 100,000 square kilometres (40,000 square miles) that is also claimed by Mogadishu.
Somalia, which lies to the north of Kenya, wants the maritime border to continue along the line of the land border, to the southeast.
Kenya, however, wants the sea border to go in a straight line east, giving it more sea territory.
Mogadishu wants ICJ to help solve the dispute by determining whether the borderline should flow eastwards as demanded by Kenya or diagonally to the south from the land border as it wants.
Despite the legal uncertainty, Kenya has already awarded exploration contracts to international firms.
The disputed area is believed to be rich in oil and gas deposits hence the squabble.
JOIN OUR PULSE COMMUNITY!
Recommended articles
Murder suspects wanted in UK arrested after escaping to Kenya
Let's not lie to each other - Mudavadi fires back at Uhuru
TSC launches first ever live-streaming lessons for schools
Nyeri farmer's complaint to Kenya Power goes viral
Rufftone's serious accusation against his brother Daddy Owen on live TV
Uhuru disappointed by Ruto-Mudavadi pact
Uhuru leads Kenyans in mourning ex-Speaker Kenneth Marende's mother
UDA and ANC announce 1st mega rally after Bomas 'earthquake'
Ex-LinkedIn boss found dead at Nairobi hotel