Dear Ngina Kenyatta; here is how you can help unemployed youths in Kenya
An open letter to Ngina Kenyatta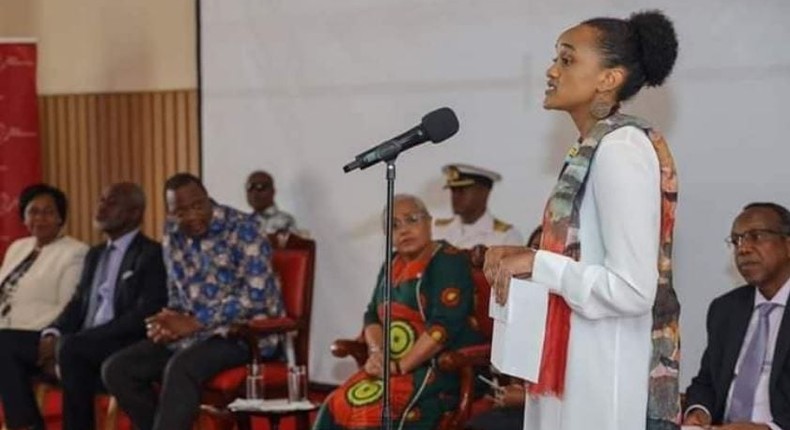 I hope this letter finds you in perfect health. I understand you maybe in a foul mood given the roasting you have received from the Kenyan online community.
See, some people took offence at your speech without considering what it's like not to have any familiarity with poverty in a country where millions sleep hungry.
From the onset, know that I don't blame you for where you were born – like the rest of us, you did not send an application to get the Kenyatta surname. It is impressive, I must say, that despite being born in what many would interpret as a perfect world, you made your small effort to help those in need.
Despite your good intentions, I have to put it bluntly that your efforts constitute a mere drop of tears in the desert of squalor that we the youth have found ourselves.
The purpose of this letter, therefore, is to compassionately advise you on the tactics and approaches that will make you more successful in solving youth employment. I must admit that some of my advice may seem unorthodox and unfair to you but remember - to whom much is given, much is expected.
My advice starts out in your father's bedroom. Before you accuse me of intruding, I have to point out that your old man's digs has been built with Sh700 million of our taxes. They called it "security reinforcement to match presidential status".
Now back to the bedroom, if you search through your old man's safe, I imagine there are multiple documents and one of them is a trust statement that daddy forgot about. I don't blame him. A Sh10 billion trust fund can easily be forgotten after a six-year multi-billion expansion in the family business.
Now, your task is to convince him to withdraw a meager Sh700 million and write a cheque to the National Treasury as reimbursement for the fine security upgrade on your Caledonia home. Plead with him that is what Presidents in developed countries do – even though their countries are richer than Kenya and their President way poorer than President Kenyatta.
As you are leaving the bedroom, pass by the closet and pick just four of daddy's time pieces. We always wonder why a man would need a Sh25 million watch but hey, we don't have billions lying in our accounts.
Now, we got Sh800 million. Call the National Treasury CS (he will do anything you ask, trust me). Direct him to prepare the legal documents for Sh800 million tax breaks to any company that will employ 6000 youths for a six-month internship at a Sh20,000 monthly pay. That's 720 million and we still got some loose change.
Now proceed to the papa's office and have a serious talk. I would have proposed matters economic policies but I am told your first degree is in International Relations.
I will only dwell on matters I assume to be your forte. I need you to convince daddy that foreign travel does not equate to good diplomacy. A small heads up, the Presidency spends an approximated Sh10 billion on local and foreign travel per year.
Over the past six years, papa has been gallivanting around the world – over a hundred foreign trips so far and still counting. I don't know which civil words you can use to convince him but perhaps you can mention that your grandfather, old Jomo, made only two foreign visits for the fifteen years he was President – and the country was just fine.
If he can be satisfied with the foreign trips so far made, and start paying for domestic visits made for political tours, we would probably need a mere Sh500 million per year – saving an impressive Sh28 billion.
I did some research and established you also run a restaurant so I have something small to ask of you. The Presidency spends around Sh1 billion on hospitality. Yes mandazis, chai, and cocktails can be that expensive! If that can be cut Sh100 million, and I trust as a practical hotelier you can figure something out, we would save Sh2.7 billion by 2022!
The Sh40 million lose change, the 28 billion from unnecessary travel, and Sh2.7 billion from hospitality, we are at Sh31.1 billion.
Many young people have been unable to get jobs or start businesses because they took loans with the hope that they would graduate and get employment but were instead bombarded with hefty fines when they defaulted.
The defaulted amount is around Sh8 billion which we will clear with one cheque. We still got 23 billion!
Now, how about we set up a youth innovative campus where young skilled people can research, do experiments, develop mobile applications, create art work, develop business proposals and fund the most viable? The trick is to ensure there is no government involvement in the management of the fund – manage with the efficiency you employ in your many family businesses. Am I making sense?
The views and opinions expressed in this article are those of the authors and do not necessarily reflect the position of Pulse Live Kenya.
JOIN OUR PULSE COMMUNITY!
Recommended articles
Why doctors are concerned with rise in Oeosophageal Cancer cases
Uhuru warns Africa's GDP may fall by 30 percent
DCI summons Nairobi acting governor Ann Kananu
CBK revokes mobile payments service provider
Ruto and Waiguru speak after hearty reunion [Video]
Two teachers flee with Ruto's Sh1 million cash donation
Ruto pens birthday message to Uhuru
Governor Anne Waiguru joins DP Ruto's UDA
Wheelbarrow gets new meaning during Ruto's tour of Ukambani