7 things that shook Ghana's financial sector in 2019
In 2019, many would agree that a lot of issues have shocked people.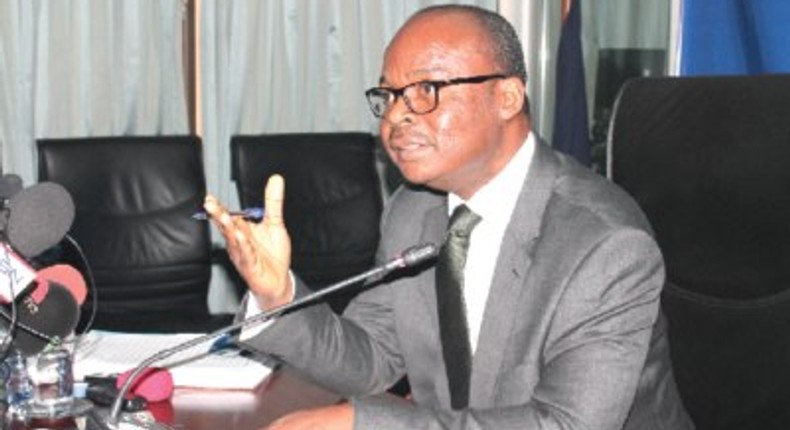 This includes news in the business and financial category.
In Ghana, many have expressed different emotions at the happenings in the business sector.
Some have been happy, others have been sad and emotional because they have lost money or other important things.
Most of these will have an effect on the financial sector in 2020.
Here are 7 business stories that shook Ghana's financial sector in 2019.
1. Menzgold saga
The Chief Executive Officer (CEO) of Menzgold Ghana Nana Appiah Mensah was arrested in Dubai on December 7, 2018. However, the Ghanaian public got to know about the arrest in January 2019.
A statement issued by the Ghana Police said the arrest of NAM1 was to facilitate investigation into claims that he had been involved in a scandalous gold trading deal in Dubai.
Head of Communications at Zylofon Media, Samuel Atuobi Baah aka Sammy Flex announced on April 9, that NAM 1 has been released from Dubai jail after he was declared not guilty.
Since he arrived in Ghana, he has been facing legal action. He was granted from police custody after meeting his bail requirements of GHc 1 billion with five sureties of whom three were to be justified.
Currently, Menzgold customers are validating their documents at designated offices so they can possibly be paid back their investment.
2. BoG revokes licenses of Premium and Heritage Banks
Pulse Ghana
The Governor of the Central Bank, Dr Ernest Addison said the two banks collapsed due to their failure to meet the minimum capital requirement and obtaining operation license with questionable capital resources.
Speaking at a press conference in January this year, Dr Addison said the institution has "approved a Purchase and Assumption Agreement between the Receiver and Consolidated Bank Ghana Limited (CBG) under which the Receiver has transferred some assets and liabilities of the two banks to CBG."
"Pursuant to Section 123 of the Banks and Specialised-Deposit-Taking Institutions Act, 2016 (Act 930), the Bank of Ghana has revoked the banking licences of Premium Bank Limited and Heritage Bank Limited with effect from the date of this Notice and has appointed Mr. Vish Ashiagbor of PricewaterhouseCoopers as Receiver for the two banks. Complete details of the bases on which the licences of the two banks have been revoked are attached as Annexures 2 and 3. Among other things:
Premium Bank was found to be insolvent as of 30th November 2018 with a capital adequacy ratio of negative 125.26%;
• Heritage Bank among other things obtained its banking licence on 4th October 2016 on the basis of capital with questionable sources. Furthermore, the bank was unable to meet the new minimum capital requirement of GHC 400 million as of 31st December 2018."
After the collapse, the majority shareholder of the defunct Heritage Bank, Seidu Agongo has accused the government of being unfair to him and his bank.
3. Bank of Ghana shuts down 347 Microfinance institutions
ece-auto-gen
The BoG has revoked the licenses of 347 insolvent microfinance companies. The shut down was effective on May 31, 2019.
The licences of 192 MFIs were revoked in addition to that of another 155 that had already ceased operations.
The BoG appointed Eric Nipah as Receiver for the specified institutions in line with section 123 (2) of Act 930.
4. BoG closes down 23 Savings and Loans companies
Pulse Ghana
The Central Bank revoked the licences of 23 insolvent savings and loans companies and finance house companies.
These companies included the GN Bank which had been downgraded to a Savings and Loans Company a few months prior.
Eric Nipah was appointed as a Receiver for the specified institutions in line with section 123 (2) of Act 930.
5. Securities and Exchange Commission (SEC) shuts down 53 fund management firms
Pulse Ghana
In November 2019, the SEC revoked the operating licenses of 53 fund management firms. The revocation was effective November 8, 2019, pursuant to Section 122 (2) (b) of the Securities Industry Act, 2016 (Act 929 or "the Act").
The SEC announcement said, "the revocation of the licences of the specified companies has become necessary as they have largely failed to return client funds, which remain locked up and in a number of cases, they have even folded up their operations."
Affected customers of these institutions have been asked to go to selected Consolidated Bank of Ghana Limited (CBG) branches as a validation point.
6. Bank of Ghana introduces GHC100 and GHC200 introduction
Pulse Ghana
The Bank of Ghana has introduced GH¢100 and GH¢200 notes as additions to the country's currency denomination mix. The Central Bank has also introduced a GH¢2 coin.
Dr Ernest Addison said "a lot of thinking went into the decision to introduce the higher denomination banknotes. The structure of the banknote should align well with the needs of the people who use it for their daily transactions. We need banknotes and coins that are convenient for most people to use, high quality, secure and cost-effective."
"Accordingly, in March 2017, the Bank of Ghana begun a process of conducting a thorough review of the structure of the currency including on the note/coin boundary and acceptability and use of the individual currency series. The review exercise which involved conducting a nationwide survey with market operatives, businesses, and international stakeholders as well as some empirical exercise. The outcome of these exercises revealed the resurgence of deadweight burden issues on the economy due to past significant inflation and perennial depreciation of the currency, significant increase in the demand for higher denomination banknote and increased cost of printing."
The results of the research led to the introduction of the new notes.
7. Loom
Pulse Ghana
Loom is a scheme which targets young people through social media and gets them to recruit other people and invest money, much like a pyramid selling scheme.
In Ghana, individuals created their own WhatsApp groups to get individuals to sign on to it and contribute to the group.
However, the SEC warned Ghanaians against it. Most Ghanaians on social media descended heavily on the SEC and said they will participate whether the government likes it or not.
Recommended articles
African countries with the highest divorce rate
Machoka at 70: Emotions run high during Citizen TV presenter's birthday [Video]
Diwali 2022: Is Monday a public holiday in Kenya?
Akothee finally reveals reasons for separating from Omosh 1 month after wedding
Man, once a 'billionaire', recounts how he lost wealth, now sells his book on streets [Video]
Details of Ngina Kenyatta's luxurious restaurant
Zero Chills! Jackie Matubia's advice for Milly Chebby amid the unfollow drama
Nigerian royal dignitaries, including four kings and a queen, expected to attend Museveni's 50th wedding anniversary celebrations
Mzee Kibor's will made public, revealing how vast wealth and millions will be distributed