EXCLUSIVE:Why employees at Mash Poa buses could lose jobs after SGR launch
Senior officials at Mash Poa told P Live that they could soon lay off a number of workers.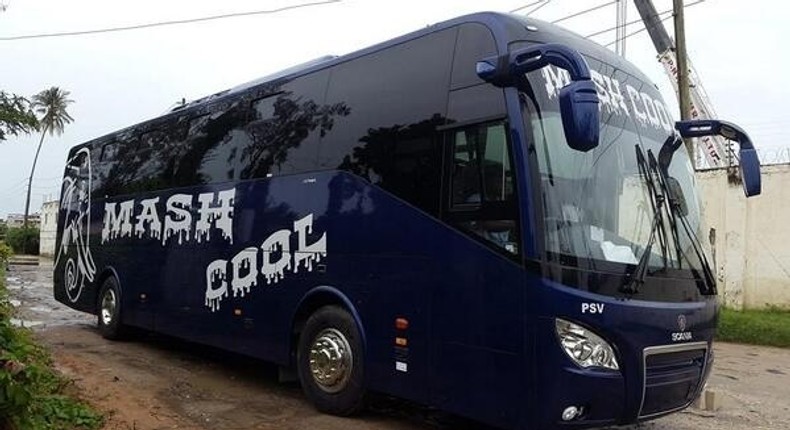 President Uhuru Kenyatta today presided over the historic launch of the Standard Gauge Railway project in Mombasa.
The project has been lauded as Jubilee's biggest project since independence aimed at cementing Kenya's position as the gateway to East Africa.
But beyond all the fanfare that comes with the launch, the Sh327 billion project has cast a dark cloud over Kenya's luxury coach buses.
The companies are a worried lot as the SGR is bound to affect their services to the extent of leading to job losses.
The likes of Mash East Africa Ltd, Modern Coast, and Dreamline Express among others, who have been plying the Nairobi-Mombasa route for years, are now facing the stark reality of a possible downfall in their business operations.
With the trains taking under five hours to travel between Nairobi and Mombasa and at speeds of 120km/h, there is no doubt that many passengers will abandon the buses and shift to the train.
P Live sought the opinion of senior officials at Mash East Africa Ltd. on what lies ahead for the company.
"We laud the President for launching the SGR project but on the other hand our business is virtually no more," said Hafith Mahmudhu, Assistant Manager of Mash East Africa Ltd in an interview with P Live.
Mr. Mahmudhu has been working at the bus company for years but now says that with the SGR launch, their business remains at danger of making losses.
"Most of us will lose our jobs because it's quite obvious that many passengers will ride along with the SGR wave."
"For instance, the number of passengers that a cargo train will transport is equivalent to about twenty buses. So what next for those bus drivers and conductors?" decried Mr. Mahmudhu.
Likewise, Justus Kioko a cashier at the bus company, also said that truck drivers will be rendered jobless given the cargo trains' capacity to ferry over 800 containers at a go.
"If one cargo train carries over 200 containers at a given time, then that means at least 800 containers will be hauled by the four trains daily. Of course that renders many truck drivers and tan boys jobless," said Kioko.
And with President Uhuru lowering the SGR prices for their trips (Sh700 for economy class), as opposed to Mash Poa's Sh1200 for the same, will they follow suit and charge less?
"We'll try lower down the costs but we have to consider factors such as fuel price. At the end of the day, the business has to make profit so we have to take such factors into consideration," says Kioko.
''With us, we drop passengers at their final destinations as opposed to the SGR that drops them at specific stations. So our prices are pegged on such logistics but in the meantime, we'll just wait and see," added Lennoy Shalo, the firm's General Manager.
"The company has introduced new routes such as Kigali, Busia with plans to introduce more in the near future as a way of maintaining the business," said Justus.
On the other hand, Mr. Mahmudhu stated that if Mombasa Road, which is in a pitiful condition, is worked on, then the SGR will pose no threat.
"The only threat we face is that of Mombasa Road. We end up spending a lot of money repairing the buses that get spoilt from the potholes.
"The government is taking advantage of that situation through the SGR project. They are only concerned about their welfare and not of the mwananchi."
For Mr. Shalo, quality customer care will be the selling point even if the number of passengers will reduce.
"I do not think it is a matter of whether the SGR charges less money, if we stick to offering quality services then I think we shall do business as usual."
JOIN OUR PULSE COMMUNITY!
Recommended articles
Amazing transformation of 21-year-old man bullied for being born different (video)
Abel Mutua's movie makes over Sh4M in 5 days
Why do guys still masturbate when they have girlfriends?
5 things you should never do to please a woman
How Janet Mbugua's husband Eddie landed Sh240 million deal with Chinese investors
British MP claims she didn't know her flat was owned by the Kenyatta family
I spent Sh800K - Vera speaks on begging for money to fund lavish Baby shower
Shika Simu yangu bro, we need you - Eric Omondi begs Eddie Butita
Janet Mbugua's husband thrown at the centre of nasty fight at Ole Sereni Hotel [Video]