Mind your business – Khaligraph Jones' baby mama tells off critics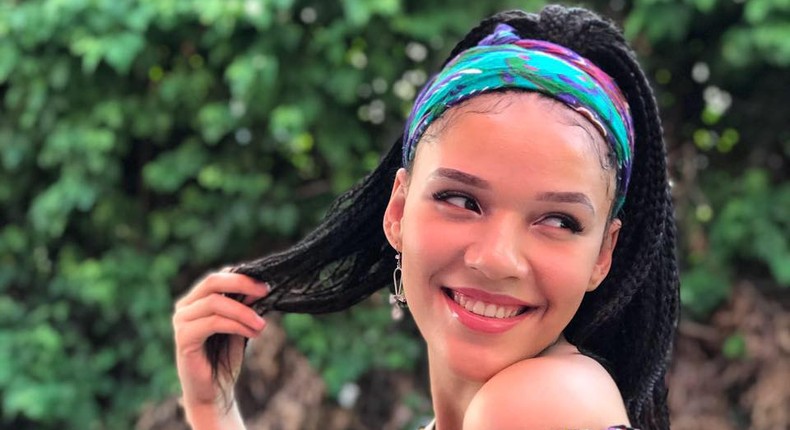 Amali Jones Ouko is barely a month old and her mum Georgina Muteti is already fending off critics.
Apparently, there are people who have a problem with Georgina dressing her newborn daughter with rapper Khaligraph in blue.
"Y'all fr gotta start minding your business fr fr. Ati why do I dress my child in blue clothes! First of all, she is my daughter and she finna wear what I want her to wear! Two, she will wear every colour ever invented. Three, who said blue should only be for boys," wrote Georgina.
In a separate Q&A session with fans, a fan sought to find out if the baby she had with Khaligraph was a mistake and Georgina replied by stating that she knew what she was getting herself into by engaging in intercourse so it can't be a mistake.
"Mistake aje? I knew what I was getting myself into by you know…"
This is not the first time Georgina has showcased her feistiness. When Khaligraph's ex Miss Cashy came for her man, Georgina told her off.
"Immaturity at its finest. Be careful of the lies you choose to tell, they might just turn on you to spite. The only way you can make yourself relevant is by using his name. Pity. A barking dog never bites," wrote Georgina on her Insta stories.
Pulse Live Kenya
A few months ago, Khaligraph's ex Miss Cashy rocked the boat by claiming that Khaligraph was spiteful, violent and his unborn baby was a 'panic baby'
She claimed that Khaligraph has done a lot out of spite and his unborn baby is a 'panic baby' because Cashy had her son.
"He did a song trying to invalidate me just because his ego is shattered. I am sorry bruuuh. And then ooh he's making out with who and who, having panic babies because Cashy had her baby, 'even me' you know. And then he sends me text messages to tell me 'utaona' (you will see) Niatona nini? A child isn't something you use as revenge it's very deep to be a parent. A child is a life. You cannot use this as revenge against me. Just be mature about some things," Cashy said on NRG radio.
Pulse Live Kenya
She then went on to claim that Khaligraph posted risqué pictures of women on his back out of malice."Like last year, you would see I had moved on with my life, and I was quiet but someone puts up pictures of women naked on his bed sitting on his back. I was with this person for five years, he was not doing that. Even you people seeing him on Instagram should wonder why he is doing it, it is spite. Something called spite," said Cashy.
Recommended articles
Bien defends wife Chiki Kuruka after grinding incident
Soft life - Kevin Mboya enjoys flight to Mombasa for paid holiday
Radio presenter Nazizi Hirji quits Vybz Radio
10 most promising East African musicians in 2023 [Spotify List]
DJ Lyta shows off his new ride [Video]
I thought it'd get easier, but it doesn't - Martin Kasavuli posts on late mom's account
Daddy Owen drops new music video after 1-year hiatus [Watch]
Amber Ray excites fans with video of growing baby bump
Shaffie Weru makes media comeback with new show [Video]