8 of Kenya's most elite music producers
Meet the iconic beat creators at Decimal Records, Pacho Entertainment, Black Market Records, Main Switch and Blue Ink Studios.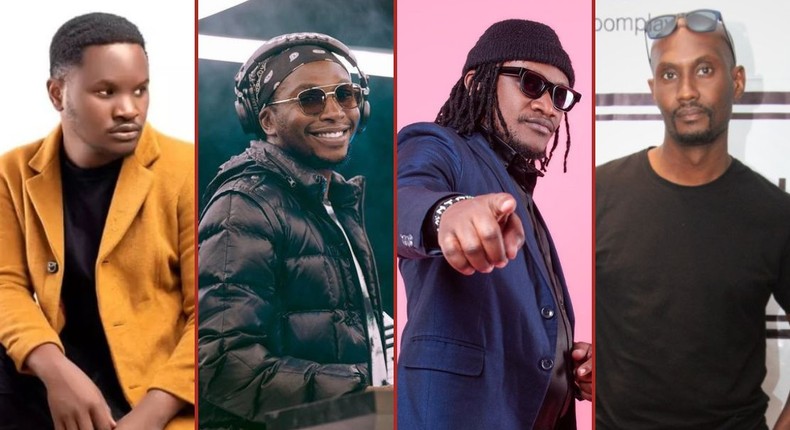 Music producers are the unseen force behind every great song, the yin to a song's yang.
Hits are born from hours outpoured by talented producers in the studio, fine-tuning the beat, the melody, the vocals, the arrangements which all need creativity and technique as well as a good understanding of music genres.
Although they are rarely the face of many accolades, without them there would be no music. They ensure production runs seamlessly and the end product is perfect.
Here are seven crème de la crème producers who have been at the top of their game through generations of Kenyan music.
Eric Musyoka
He is a veteran producer with more than 20 years of success in the music industry. Musyoka owns Decimal Records recording studio which rose to repute for working with Kenya's biggest talents.
The record label notably produced 'Drinx Na Mayenx' by Decimal Records artistes (DCMTRS) - Masta Ajab, Bon'eye, KonKodi and Brian Nadra. He also worked on Morgan Heritage's 2019 album Loyalty.
He started producing music in 1997 at the popular Sync Studio, under the guidance of Muhammud Omar, Ambrose Mandugu, and Tedd Josiah.
As the Head Producer at Homeboyz Entertainment, he worked with artistes such as Prezzo, TID, Sema, Mr Lenny, Bamzigi, Nameless, AY, Wyre, Peter Miles, Nikki and Nonini.
Musyoka is feted for producing major hits such as 'Punchline Kibao' by Ukoo Flani, Nonini's 'Keroro', 'Hii Ngoma' by Nikki, 'Kare' by P-Unit, 'Ha-He' by Just a Band and 'You Guy' by P-Unit.
The prolific producer said in a past interview that his greatest achievement is knowing that he has been a source of inspiration.
Cedo Kadenyi
He is hands-down one of the best producers. Cedo is a producer with Pacho Entertainment and has cemented his name in history as the producer behind major singles like 'Mungu Pekee' and 'Malaika' by Nyashinski, 'El-Shaddai' by H_art the Band and 'Dandia' by Kristoff.
Pulse Live Kenya
Cedo has also worked with the boyband Sauti Sol as well as collaborated with Sol Generation artistes on projects. He continues to be a skillful producer behind tracks.
Tedd Josiah
Josiah is a legend with an almost godfather status in Kenyan music. He owns the Blue Zebra Records formed in 1999 which was originally called Audio Vault Studios before being renamed in 2002.
Pulse Live Kenya
He is Wyre's former boss and most of the artist's hard-hitting songs were recorded in the Blue Zebra studio.
Josiah produced the iconic compilation albums titled 'Kenyan, The First Chapter' and 'Kenyan, The Second Chapter'. The two albums featured Hardstone, Kalamashaka, Gidi Gidi Maji Maji, Necessary Noize, In-Tu, Jimmy Gathu, Maina Kageni, Pete Odera, Ndarling P and Ugandan musician Kawesa.
Having sustained a career spanning decades, Tedd advises Kenyan musicians: "A lot of artists don't understand Kenyan sounds from the past and only look to what they hear now, so their musical research is based on Kiss radio's playlist which is honestly all of five songs most of which are Nigerian."
Philip Makanda
He is famously known as Philo. The talented producer is the man behind Jaguar's hit songs such as 'Kipepeo', 'Huu Mwaka' and 'Kioo'. He is the Director at Main Switch Record Label.
Pulse Live Kenya
Philo has also worked with Daddy Owen, Papa Dennis, Vivian, Kendi, Zikki and Elani.
Motif Di Don
Pulse Live Kenya
Motif is the producer at Blue Ink Studios owned by Papa Jones. He is the person behind the dope banger released by the acclaimed hip-hop star. He is a self-made brand when it comes to music producers in Kenya.
Magix Enga
Kenyan producer Magix Enga goes after Harmonize, threatens to pull down his new song Pulse Live Kenya
Enga has worked with many upcoming artists like Alvindo, Boondocks Gang amongst many others. Some hits by Timmy Tdat, Otile Brown have been produced by his magical hands.
Mavo on the Beat
He is a top-rated producer and owner of Marvine Music Studio. Mavo has worked with artists like Vivian, Sudi Boy, Kansoul, Gwaash, Mbogi Genje, Sailors, Jua Cali and Maddox.
Pulse Live Kenya
The beatmaker is on the rise due to his craftsmanship which is appreciated by artistes.
Vic West
Black Market Records producer Victor Amani 'Vic West' has made a name for himself not only as one of the most prolific Gengetone producers but also as a talented artist and songwriter, given his 2022 hit 'Kuna Kuna'.
Pulse Live Kenya
Vic West has produced 'Dai Dai' by Fathermoh Ft. Shekina Karen, 'Sababisha' by Rico Gang, 'Manzi Wa Donholm' by Chan Chan $ Blacowp, 'Soko' by Mbuzi Gang ft Harry Craze, Unspoken Salaton and 'Chunli' by Fathermoh, Khaligraph Jones, Smady & Boutross.
Recommended articles
Mulamwah reveals next investment as Kitale mansion nears completion
Diana credits Morgan Bahati with family's success & the memory she holds dear
Kwambox lights up social media after hosting 10/10 show & impressing on Citizen TV
Akothee over the moon after her 'son' graduates
Meet Stephen Opondo: From Atito of 'Classmates' to starring in a Japanese film
TikToker dies days after posting a video about death
Juliani's 'Total Man' & 7 other fresh songs of the week
Breeder's lines on Mungai Eve could give Director Trevor a reason to worry
Marlaw's Biography: Age, financial struggles, music hiatus & comeback