Exclusive footage of Crazy Kennar enjoying his new Toyota Prado TX
Crazy Kennar is one of the best content creators in Kenya, having scooped 3 trophies at the last Pulse Influencer Awards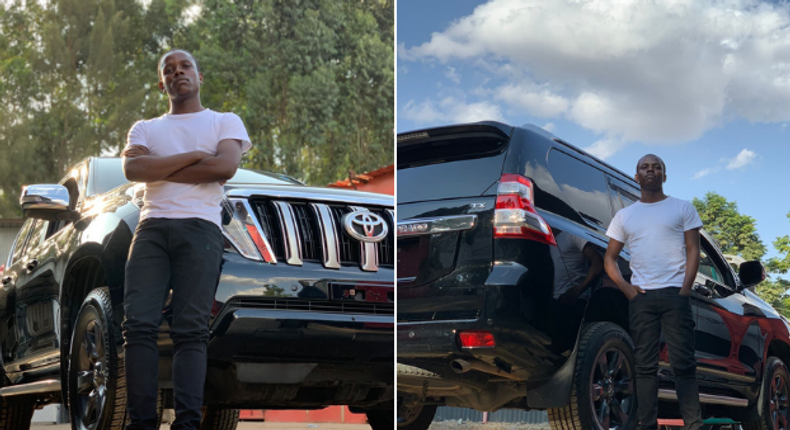 Comedian and content creator Crazy Kennar, real name Kennedy Odhiambo, is the newest owner of a Toyota Prado TX.
Kennar, who is one of the best content creators in the country, collected the luxurious vehicle on Monday, after a long wait.
Multiple sources close the the comedian confirmed the reports.
The vehicle which comfortably seats 8 passengers.
As of March 2022, his channel had garnered over 121 million views since joining the platform in 2017.
Kennar started out as a teacher at a local school and started creating content using a borrowed phone.
"I was skipping some classes in order to shoot until I joined campus," he said in a past interview.
He said that during his early years on campus, one of his fans committed suicide and he vowed to fight depression through his comedy.
In October 2021, Kennar scooped three awards at the Pulse Influencer Awards held at Prideinn Azure in Westlands.
He, rightfully, now holds the title for Kenya's Comedy Influencer, Facebook Influencer and Instagram Influencer of the Year!
What was more intriguing was that he came to the awards with his team and insisted that they are all part of his success.
"I want to thank my team, as you can see, they are all here and I thank God, manze nimefurahi sana!" he stated after scooping his second award of the night.
He would later add: "Kufika hapa it has taken us hardwork, commitment and teamwork. I really love the people I work with, sisi hushoot 24/7 - saa hii tunafikiria kushoot, tumeshoot and after this tutashoot - and I believe this is just the start, we will win even more awards. When I lift the Oscar Award you will remember that Crazy Kennar told you so!
Pulse Live Kenya
"Kennar is much more than what you see, my end goal is to leave a positive impact and for me that has happened through making people laugh with my comedy skits and creating employment as you can see already 15 people have jobs because of what I do. Anywhere I can help, even with a single word to a person, then I will do it. My philosophy is if I rise then let me rise with other people," Crazy Kennar disclosed after accepting his third award of the night.
Pulse Live Kenya
Get our Top Stories delivered to your inbox
Recommended articles
Youthful MP Peter Salasya searching for a wife with these qualities
Ed Sheeran may have to pay $100m, if found guilty of plagiarising a song
Size 8 casts out demons from possessed girl in Kibwezi [Video]
Bahati is battling depression, Diana has called me twice-Ringtone
Jamal Rohosafi throws shade at ex-wife Amira with cryptic message
My twin - Diamond gushes over look-alike son[Photo]
Crossing boundaries! Diamond working on a song with Indian star [Details]
Nick Cannon welcomes his 10th child, weeks before his 11th is due
Abel Mutua 'fried' as Roast House closes curtains for Season 1