He's a bully - Kamene Goro explains fallout with comedian Mulamwah
You are not a nice person and we'll never be friends - Kamene to Mulamwah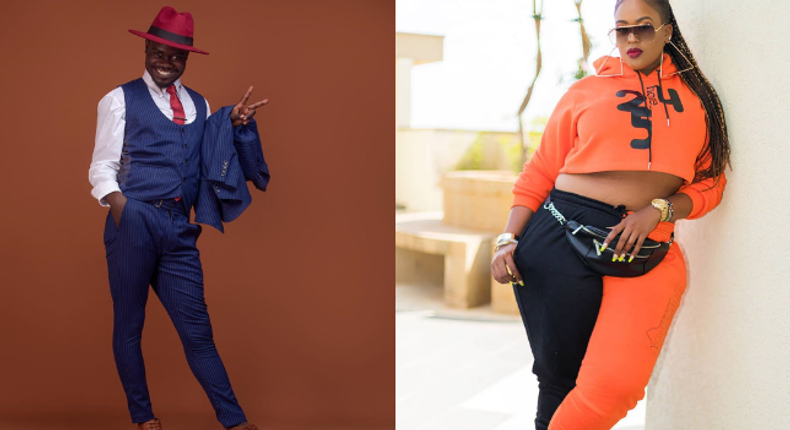 In an interview with Obinna, Kamene accused the comedian of being bully who hides behind comedy when doing it.
"Mulamwah is a bully, and he thinks just because he's a comedian, it's okay for him to be a bully. I didn't know him from here, to Timbuktu and back. I posted a picture, he went and wrote something extremely hateful, and I was like boss, ata sikujui, nimekukosea wapi? (I don't even know you, how have I offended you?)" Kamene told Obinna.
Ms Goro went on to explain that she met Mulamwah at Ongea Summit and he tried to brush off his hateful comment but she turned him down.
Media Personality Kamene Goro
I don't want the apology - Kamene to Mulamwah
"I met Mulamwah at Ongea summit at Sarit, like two years ago and we were there with Charity, eating and chilling, and Mulamwah comes in and says Mambo? After he had called me a hippo, and I was like no, and then he said, lakini unajua inakuanga tu jokes, ni social media, I told him shukuru Mungu that I have the confidence that I have, but you can't just go and say something extremely abusive, derogatory and belittle them. I don't know you, the first time I met you ulinitukana and we'll never be friends," Kamene noted.
Asked if she is ready to forgive the funnyman, Kamene said; "I don't want the apology, the year is 2022 tushamove, he's not a nice person,".
In a quest to substantiate her allegations, the Kiss 100 Presenter went down the memory lane to the day Mulamwah bullied her and comedian Chebet Ronoh on social media.
Oga Obinna Pulse Live Kenya
"Mulamwah bullied me online. So I posted a picture with Ronoh and we were sitting at the swimming pool rooftop at my place. Mulamwah comes to the comment section and said if the two of us get into the pool, all the water pours out," said Kamene during a 2020 interview.
In October 2020, Kamene was again at logger heads with Mulamwah after following her comment on his public breakup with his then girlfriend Caroline Muthoni alias Sonie.
Get our Top Stories delivered to your inbox
Recommended articles
Youthful MP Peter Salasya searching for a wife with these qualities
Ed Sheeran may have to pay $100m, if found guilty of plagiarising a song
Size 8 casts out demons from possessed girl in Kibwezi [Video]
Bahati is battling depression, Diana has called me twice-Ringtone
Jamal Rohosafi throws shade at ex-wife Amira with cryptic message
My twin - Diamond gushes over look-alike son[Photo]
Crossing boundaries! Diamond working on a song with Indian star [Details]
Nick Cannon welcomes his 10th child, weeks before his 11th is due
Abel Mutua 'fried' as Roast House closes curtains for Season 1