9 storey building collapses in Ruiru
The building was under construction in the Oj area of Ruiru sub-county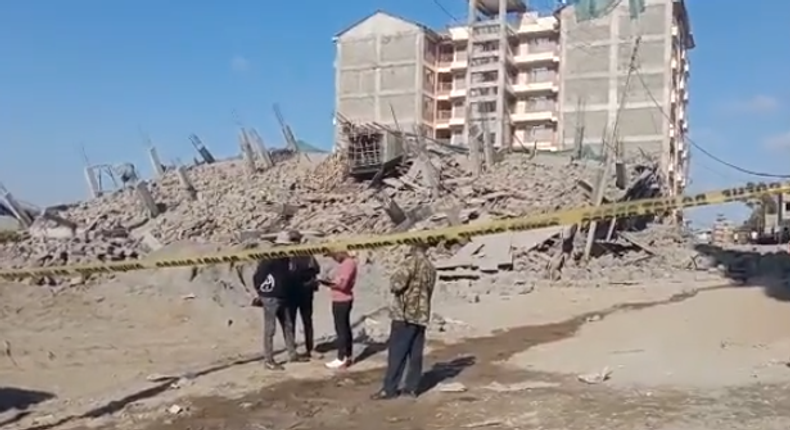 A nine storey building in Ruiru sub-county, Kiambu County has collapsed to the ground.
Police reported to the scene promptly with no casualties confirmed as at the time of reporting.
Ruiru DCIO Justus Ombati toldd reporters that the building was empty at the time of the crash, confirming that there were no fatalities expected from the incident.
The occurrence seemed to coincide with an unexpected power outage reported by residents in Kimbo, Gwa Kairu and Toll areas which all neighbour Ruiru town.
The incident adds to a burgeoning list of faulty constructions that have endangered lives in this year alone.
A total of three bodies were collected from the crash-site with authorities stating that the Mamboleo Estate construction had been condemned and stopped in May 2021.
It is believed that the owner went ahead with construction, disregarding the warning.
Before then, a six-storey near-completed building in Kinoo was forcefully demolished after it sunk and leaned unexpectedly.
The six-storey building started collapsing on Friday, September 3rd but stopped midway, posing danger to resident of the area.
Video coverage of the action by Pulse Live team showed an excavator trying to bring down the building by demolishing the support structure and pillars.
After more than half an hour later, the building imploded on its self and the excavator operator was able to save their life by moving just seconds before the building collapased.
JOIN OUR PULSE COMMUNITY!
Recommended articles
Biography: Peter Kelerwa Salasya
Supreme Court highlights dysfunction in IEBC, makes 7 key recommendations
Ruto: This is one of the last times we are having this ceremony
Police lob teargas at MPs protesting outside IEBC offices [Video]
Ruto's directive on SGR takes effect
6-storey building collapses, many feared trapped
2 powerful aides that will make or break Ruto's legacy
Ruto orders crackdown on Pokot bandits
James Wokabi wraps it up at Capital FM after 18 years