Can we find the perfect Femi One song for you this Friday? [Quiz]
Femi One is undeniably one of Kenya's most prolific rappers, with 10 years in the game and a decorated career of hits including 'Tippy Toe', 'Utawezana', 'Donjo' and more.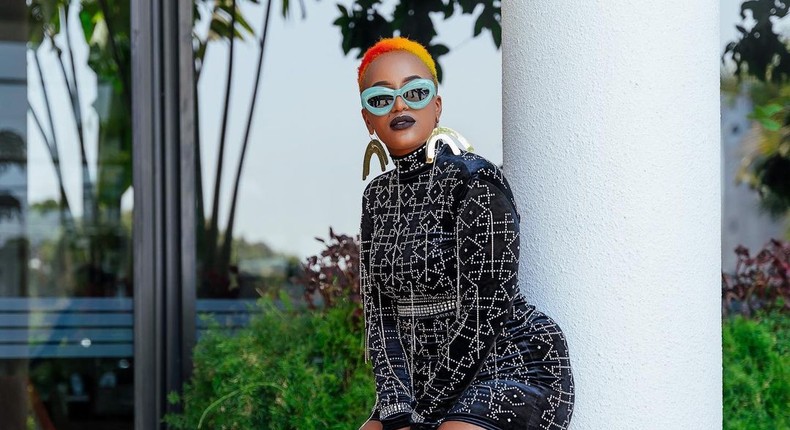 What is Femi One's name?
Wanjiku Kimani
Next question
9 years after their glorious debut on 'Ligi Soo Remix' in 2013, Femi One featured this femcee on 'Lip Service' in September 2022
In 2023, Femi One launched her own charitable organisation, the One On One Foundation. The foundation's first stop was the primary school she attended in the hood where she grew up,___________.
Kasarani, Mwiki - 17B
Next question
At the height of the 2020 lockdown, this hit by Femi One propelled Azziad Nasenya to fame on TikTok
Complete the lyric. "Kama huna fom_____________"
...leo nina form, pull up tonight kuna mizinga na wororo
...weka 'do not disturb' kwa mlango
...hepi inabambanga manoma zikiwa kwa floor
...chukua moja kwa cyber
Next question
The line is from Femi One's 2021 hit, 'Donjo'
Femi One has been signed to only one record label in her decade-long career. Which label is that?
Kaka Empire
Next question
Which of these is not one of Femi One's monikers?
"Shikow Femi One mi niko sawa, natoka ile kambi ya power..." is the opener for Femi One's 2nd verse in which collabo?
'Zaga Zaga' featuring Mejja & Jack Jack On The Beat (2018)
'Hepi' featuring King Kaka & Mbithi (2022)
'Tippy Toe' featuring Kristoff (2017)
'Rahisi' featuring Trio Mio (2023)
'Tippy Toe' featuring Kristoff (2017)
Next question
Which of these is not a title to one of Femi One's albums & EPs?
Under The Influence (2023)
Under The Influence (2023)
Next question
'Under the Influence' is a 2023 single by Femi One featuring Nyashinski
For the span of her career, Femi One has kept this aspect of her life extremely private
Dating life
Next question
Unlike many celebrities who leverage relationships for clout, Femi One has kept her dating history extremely private. In a 2023 interview with Nairobi News, she insisted: "I am dating, but I will forever hide their identity. I am a firm believer in not exposing everything out there in the open."
Get to know a little more about Femi One through her music, start with her 2021 banger "Mikiki"
You're definitely a Femi One fan, enjoy her 2021 banger "Balance"
Enjoy a classic, career-defining hit for Femi One, 2020 banger "Utawezana".
Recommended articles
African countries with the highest divorce rate
5 worst cities to live in Africa, according to Economist Intelligence Unit report 2023
Machoka at 70: Emotions run high during Citizen TV presenter's birthday [Video]
Diwali 2022: Is Monday a public holiday in Kenya?
Akothee finally reveals reasons for separating from Omosh 1 month after wedding
Man, once a 'billionaire', recounts how he lost wealth, now sells his book on streets [Video]
Details of Ngina Kenyatta's luxurious restaurant
Zero Chills! Jackie Matubia's advice for Milly Chebby amid the unfollow drama
Nigerian royal dignitaries, including four kings and a queen, expected to attend Museveni's 50th wedding anniversary celebrations