This quiz will predict what will end your current relationship
Can this quiz accurately guess what will be the straw that breaks up your current relationship? Let's find out!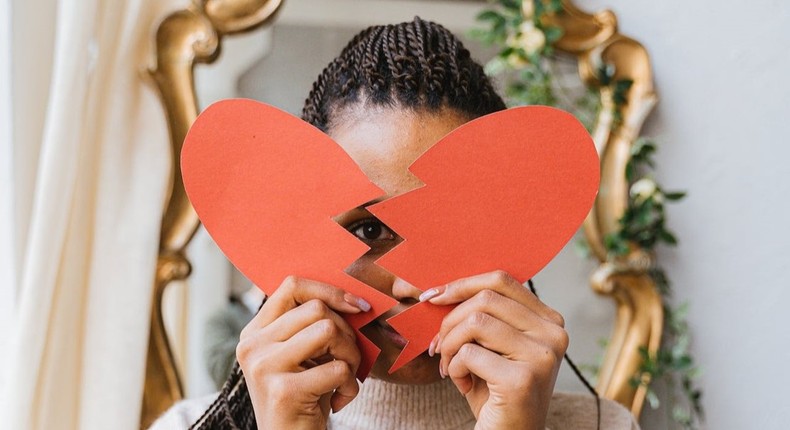 How long have you been in a relationship with your current partner?
We've been seeing each other for some time, not sure if it's official...
How intimate is your relationship?
We've had a few major fights without breaking up
We've met each other's siblings
We regularly spend nights together
We make weekly and monthly plans together
Which of these incidents have occurred in your relationship?
A big gesture of love - a high-value gift, an expensive trip, a wedding e.t.c.
One of us was angry and they mentioned the relationship was not worth it.
A substantial sacrifice for the other person, forgoing an opportunity, making a large investment e.t.c.
Micro-cheating or emotional cheating
When you disagree with your partner, how do you show it?
My partner and I are in synch, we don't disagree
I'm a very expressive person, sometimes we talk, other times I act out
If the disagreement leads to a stalemate, I just ignore it and move on
Some reasons why most of the people close to you ended relationships
Losing attraction and sudden body changes
External and third-party influence
Incompatibility and not growing together
A couple that___________together, stays together.
What ended your last relationship?
Pick a profession you would never date
What do you feel is missing in your current relationship?
Trust: I don't feel like past mistakes are forgiven and forgotten
Seriousness: I don't feel like it's going anywhere
Genuine connection: I feel like we are not completely ourselves in the relationship
Intimacy: I'd like us to explore more in the bedroom
Pick a statement that is true about your relationship
People say we look good together, #couplegoals
Best relationship I've been in for a while
It's not perfect but we choose to stay together
We're compatibly controversial
It seems like there are not enough safeguards against cheating in your current relationship and it seems to be your biggest dealbreaker.
You seem like pragmatic people who don't like to cause a scene or dwell on things, you will probably agree to part ways amicably.
It's not the worst way to end a relationship but it is also not the best but it is what it is.
Seems like you're in a healthy relationship, probably one that will go on for a very long time.
Recommended articles
African countries with the highest divorce rate
5 worst cities to live in Africa, according to Economist Intelligence Unit report 2023
Machoka at 70: Emotions run high during Citizen TV presenter's birthday [Video]
Diwali 2022: Is Monday a public holiday in Kenya?
Akothee finally reveals reasons for separating from Omosh 1 month after wedding
Man, once a 'billionaire', recounts how he lost wealth, now sells his book on streets [Video]
Details of Ngina Kenyatta's luxurious restaurant
Zero Chills! Jackie Matubia's advice for Milly Chebby amid the unfollow drama
Nigerian royal dignitaries, including four kings and a queen, expected to attend Museveni's 50th wedding anniversary celebrations